Achieve a Monochromatic Look with Just Tiles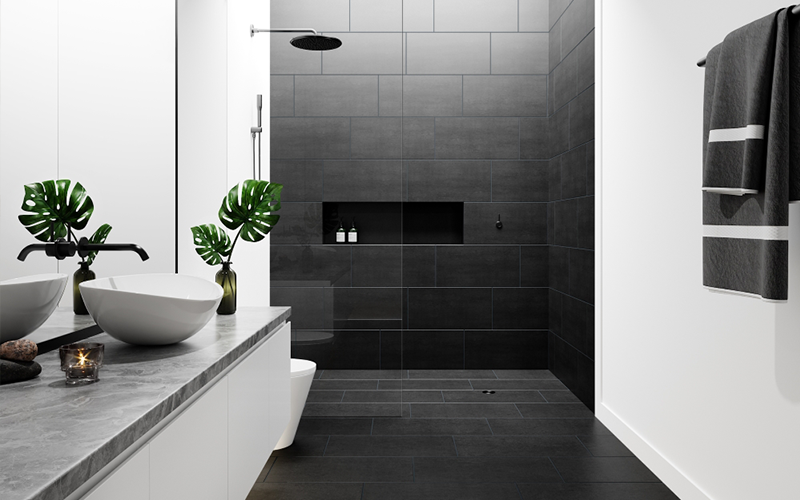 Usage of tiles has become an integral part of modern-day construction. In residential or commercial spaces, tiles can deliver both contemporary and classic designs. Various colors, patterns, and designs have bombarded the market that caters to the taste of millions of people with different requirements. When we think of timeless elegance and luxurious looks, we come across various patterns that can be created with these tiles.
The overwhelming availability of patterns available can leave us confused and stuck at various places.
Let us talk about one such look that eludes energy and composure, keeping all the chaos at bay. "The Monochromatic look "that can be created with various types of tiles is a fun way of expressing your love for single or vivid colors.
What is a monochromatic look?
Putting together solid shades on a single base to give a clean, bold look is what we call a "Monochromatic Look." The color palette creates a flow and design which is aesthetically appealing to the eyes, making a statement.
How can we create such a look?
Monochrome designs are not just about blacks and whites. It can be established, by putting color coordination in such a way that they create an impact.
The sombre grey and white:
This timeless combination that can be used on both the wall tiles and the floor tiles creates a soothing effect and a neutral backdrop. This simple yet classic combination can be used both in the kitchen and the bathroom spaces and works best for people looking for a calming and non-dramatic look.
Dramatic blue:
Deeply saturated shades of blues are yet another way to create an energizing look that never fails. Wide hues of blues can be paired with many colors and harmonized with many styles and patterns. Adding colors like Fuschia will pep up the ambiance which when accessorized with furniture, will make the look a notch above.
Timeless gold and black:
Unlike The popular notion, the usage of dark tiles makes the space look small, the combination of soft gold and black can create an intimate space. The bronze shade with the black-out feel is bold and fearless and can make any space look alluring and timeless.
The chirpy pink and cream:
Delicate pink can make your heart flutter when used with the everlasting cream. The two colors are put together to create a dreamy look and are undeniably elegant. Wooden pieces in the room, if paired with this combination are perfect for a European feel to the house.
Laying out a tile in different styles is also a unique way of creating unexpected textures and patterns that can be magical. Tiles made with more than one color and pattern are an easy way to reduce the stress of going wrong with your choices.
Place them, horizontal, vertical, as a grid, diamond checkers, chevron, random and many more.
All these tips will help you transform your dull and boring into wow-worthy spaces. Use these ideas in selecting your floor tiles, wall tiles, indoors or outdoors for that chic ambiance and fresh statement.
We at Naveen Tile provide professional help in making the right choices for your perfect project. Explore these options for a much-awaited makeover of your house. You can log onto www.naveentile.com for further assistance and get prompt solutions to all your queries.