All About Mosaic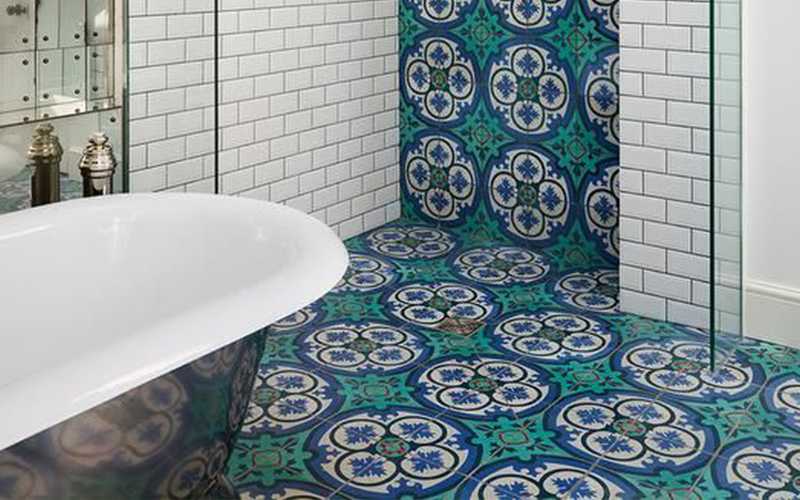 Ancient mosaic art originating in Mesopotamia is believed to date back thousands of years. The term mosaic essentially means a design that's comprised of many smaller pieces of tile. They can come in a variety of patterns and colors, which makes mosaic tiles one of the more accessible materials on the market for drawing more attention to a wall or a countertop.
As mentioned, mosaic is inspired and made by small pieces of tiles joined together. It doesn't mean it has to be abrupt or modern in any way. It can very well have geometric shapes and can be a combination of same colour and same shape tiles.
Advantages of choosing a mosaic tile is the design possibilities, a whole world of colours and patterns waiting to be explored by the touch of your creativity.
Mosaic is the best choice for people who are more artistically inclined and want their homes to express that.
As the popular saying goes, nothing is perfect; these beauties also come with some minor flaws like the lengthy installation process. Each tile will have to be put very carefully and that takes time and effort. Art requires time and patience and Mosaic is nothing but art with tiles.
Let's discuss more on the types of mosaic and where it can be used best.
Ceramic &Porcelain Mosaic
An essential for the modern look lovers, ceramics and porcelain mosaics provide the interior of your house with its own unique personality. With a wide choice of colors and finishes, ceramic mosaic tiles can help achieve any look, whether it's a retro feel or a more professional environment. Because they're extremely water-resistant, ceramic mosaic tiles have commonly been used in renovation of office spaces, bathrooms and many more.
Natural Stone Mosaic Tile
Natural Stone was the original mosaic surface used for thousands of years in cultures all over the world for interior decoration. By adding multi-coloured pebbles to your home, you can transform it into a more homely atmosphere. Choosing a particular design or pattern with natural stone mosaic tile is so easy with all the incredible options available.
It is commonly used on living room walls or bathroom walls, with the variety of options available.
Mosaic Tile Care And Maintenance
Treating your mosaic tiles kindly will reduce the cleaning work you have to do, and keep them looking brand new while preventing damage. Fortunately, maintenance is pretty easy if you just follow these simple tips:
Mopping
If you have mosaic tile floors, mopping can help keep them looking beautiful. Sweep the floors first, using a broom with soft bristles.
Vacuuming
You can vacuum your mosaic tile floors to keep them clean if you prefer that over sweeping.
Don't Drag Furniture
Lift furniture when moving it on your mosaic tile floor. That way, the furniture won't scratch or mark your tiles. The same goes for moving items on mosaic tile counters. Making your mosaic tiles last a long time is easy when you care for them correctly. No matter what type of mosaic tiles you have, clean them regularly and they'll shine for years to come.
Rest your creative brain when it come to choosing mosaics for your home. At Naveen Tile we can fulfil all your requirements with our varied options of tiles and unique designs. Come by our store, check our catalogues online or call us for enquires. We'll be happy to hear from you at www.naveentile.com.