Best Tiles for Kitchen Countertop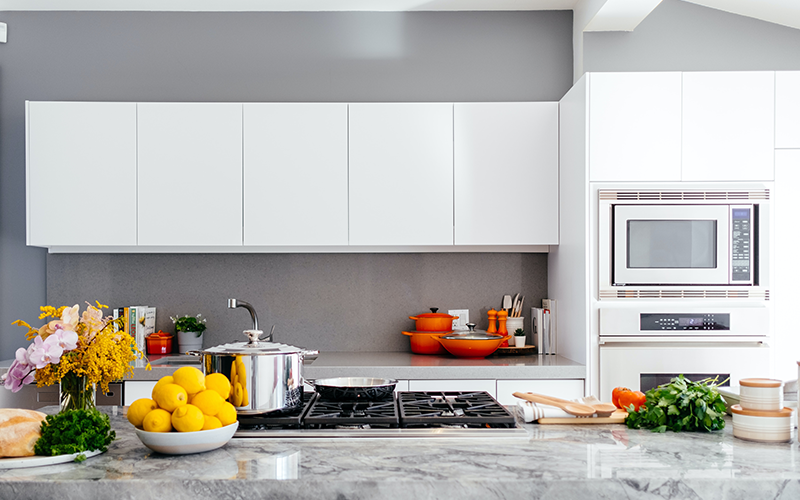 Kitchen has to be the most used space in the house. Kitchen countertops usually sets the basic tone for the entire space and these days, you can experiment a lot with them. For style-savvy homeowners, tile kitchen countertops offer the opportunity to get creative. Despite their low cost, tile countertops are quite durable
Why Should you have tiles as countertops in the Kitchen?
Well, Countertop tiles were very popular in the 80's and with the new and varied style options they are flaming again.
Variety
Tiles come with variety of options for you to choose from, both in guises and prices. Hence it is more affordable to go for a tile option for your kitchen countertop. You can be as expressive as you want with various style options to choose from.
Tiles in general are heat resistant and are easily replaceable. People factor in the point that they chip easily but little do they know that there are options you can choose to make sure that doesn't happen.
Let's explore some modern ideas for Kitchen Tile Countertops that we can help you with.
Ceramic
Ceramic tiles are made from natural clay that is parched to remove excess moisture. It is available in a wide variety of colors and designs. Ceramic tile is affordable, easy to install and very low maintenance. It is waterproof and can endure high temperatures from hot dishes. However, the only drawback to these are that they may break if you throw extremely heavy objects on it.
Mosaic
Mosaic tile comes in tiny 1-inch square units. It is often sold in large sheets that are attached to a mesh backer-board, making for easy and fast installation. These tiles can be mixed to create unique patterns and textures, and are very durable. One advantage of mosaic tiles is that they are colored all the way through, so a chip or crack will not be as visible as with ceramic tile.Mosaics are often used on the backsplash because they are made up of small-scale tiles, perfect in this space, but don't be afraid to create a whole accent wall. Use glass, marble, ceramic, porcelain and mosaics made with other materials to add pops of color, shine and shape to your kitchen.
Quartz
Quartz tile is a manufactured product designed to look similar to granite while offering superior performance. It is made from crushed quartz crystals pressed together with resin. Quartz tile has a smooth and uniform surface with a consistent grain. It is slightly less expensive than granite and is much more durable and long-lasting. Unlike granite, quartz tiles do not need to be sealed. They are completely nonporous, which prevents bacteria from becoming trapped in the surface. It is becoming more and more popular among the minimalists these days.
We at Naveen Tile can help you design and find the best tile options for your kitchen and all tile needs.
Explore more options at www.naveentile.com