Ceramic Tiles versus Vitrified Tiles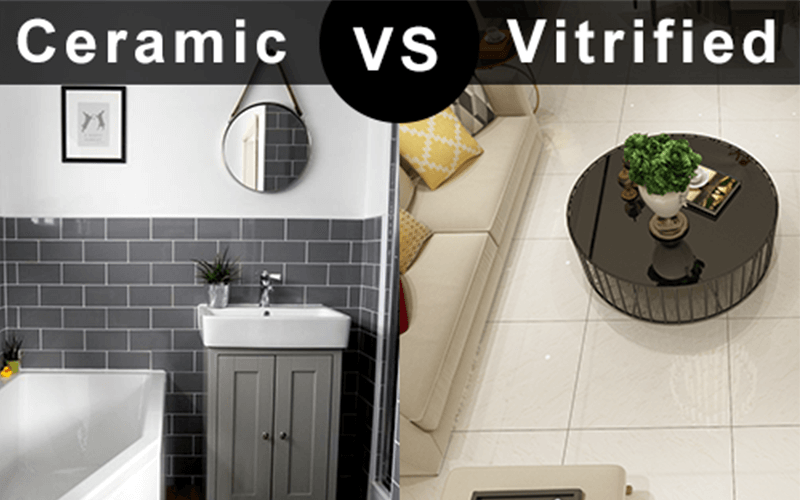 A house becomes a home when you perfect the tiniest of the details. Every time someone constructs a new house, along with the money they invest their heart and soul into it, after all, it's their dream home. Yet many a time's people aren't fully satisfied with the final result, the reason being the lack of expert touch. Tiles make for a huge and essential part of a well-built house, they are present everywhere, and not only do they contribute to the base structure of the house but also affect the aesthetic appeal. So here is your expert guide to grasp the differences between Ceramic and Vitrified tiles and to choose which of these designer tiles works best for you!
Ceramic Tiles
Ceramic tiles are one of the world's most versatile tiles as they can be easily used in several places all around the house. One can effortlessly accentuate their kitchen by incorporating designer ceramic tiles as the countertop or take it a notch higher by using these designer tiles for walls. Ceramic tiles are covered with a special glaze that protects its surface and gives it a glossy finish. Owing to how they are made, they are easy to clean as they repel any stains thus making it easier to maintain them. To suit the likes of all, ceramic tiles come in an array of designs and are yet much more cost-effective than its counterpart, porcelain tiles.
Ceramic tiles took the market by storm with their chic design, pocket-friendly price, high performance, and the availability of customization. The natural stone look-alike tile has become highly popular and can be used in several places. Ceramic floor tiles for outdoor come equipped with a non-skid feature to incorporate safety and style to your patio and walkways. The textured variety of designer bathroom tiles are perfect to add a dash of charm to your bath sessions. They also make for an astounding choice for designer wall tiles and effectively uplift the aura of any room with their unique designs. Overall ceramic tiles are an amazing choice to breathe into your house a breath of fresh style and modern enigma.
Vitrified Tiles
Vitrified tiles are similar to ceramic tiles bearing mainly the difference in porosity. Porosity refers to the absorption and frost resistance capacity of tiles. The porosity of vitrified tiles makes them a premium contender for floor tiles, especially in bathrooms, kitchen floors, and outdoor usage where the possibility of mishaps are higher. These tiles are perfect for houses with small kids as they are scratch-resistant, water-resistant, easy to clean, durable, and cost-effective. They are also known to be a great alternative to granite and marble. Vitrified tiles are made by applying the process of vitrification. In this process a blend of clay, quartz, feldspar, and silica are hydraulically pressed to create a vitreous surface, thus creating hard and durable tiles. These tiles are meant for places that have a heavy footfall such as offices, commercial complexes, malls, etc. Installing these gorgeous Italian tiles can sure be a little tedious but the final results would definitely make it all worth it!
To conclude it, ceramic tiles are the choice if you're looking to add a dash of chic to your house without spending exorbitantly, whereas vitrified tiles owing to their sturdiness should be opted for places catering to a large number of people such as malls, offices, etc.
Aesthetics and durability are the two sides of a well-constructed place. Even though tiles often don't get much credit but they sure have a large impact on the complete look and feel of a place. While the right kind of tiles can successfully heighten the aesthetic appeal and longevity of a place the wrong kind can literally bring the house down.