Creative ways to Tile your Kitchen Floor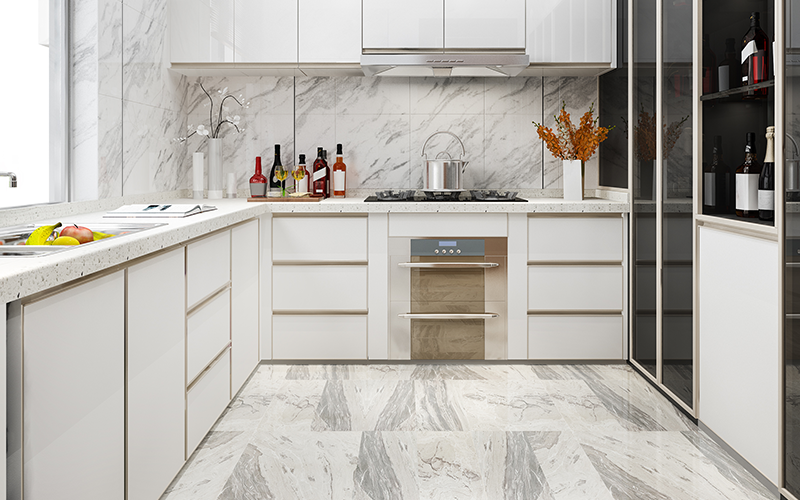 Every style has its benefits and drawbacks, making it difficult to decide which ones are best for your kitchen. However, that's precisely why we're here. Our modern kitchen tile designs and ideas will redefine your ideal kitchen. And that's why we're concentrating on the enjoyable part right now: kitchen tiles, which offer the room the most upscale appearance.
Choose bold patterns
Which is better, plain or patterned? More uncomplicated, more organic tiles have their place, but bold patterns are fashionable and look fantastic regardless of your kitchen design. They blend wonderfully with contemporary aesthetics, rustic, and more traditional décors because they can create an exciting contrast to the environment. For instance, Victorian floor tiles, which may be used in various interior designs, are influenced by 19th-century styles. They can breathe new life into a drab area or give a room some colour. White kitchens are standard, so if you have one, a more striking floor pattern will set the space apart and make it even more remarkable.
Embrace the Minimalist Look
If you want an aesthetic that will never go out of style, choose minimalism. Subway wall tiles are a perfect way to include this trend in your kitchen because of their seeming simplicity. You can arrange them in a typical brick pattern, but if you'd rather, you can also make other designs, such as herringbone. Subway tiles are very flexible and adaptable, making it simpler for you to realise your concept. They look excellent in farmhouse-style kitchens and other more traditional-looking rooms, so they're not simply perfect for modern décors. Large windows can be added to this design to increase natural light and give the impression that the kitchen is more extensive and brighter.
Get That Wow Factor
If making a great first impression is essential to you, our Eminent wooden tiles can undoubtedly deliver. The appeal of these tiles is evident in their wooden tones and unique patterns, which are complete with a glossy finish for that extra 'wow' factor. It's impossible not to take note of these luxurious tiles, whether you've opted for a contemporary décor or a more traditional feel. So, if you seek tiles made to impress, you'll love the wooden collection with its different colours and patterns.
Add Character to Your Kitchen
When creating your dream kitchen, you probably want to impart some personality, especially if you spend a lot of time there. With Stone Cut tiles, you can easily accomplish this. Say goodbye to dull, same décors with a tiled aesthetic combining art and architecture. After all, the tiles are made from 15 cuts from the same stone, allowing you to create a visually appealing style unique to you and your design preferences. These tiles will enable you to set a subtle yet beautiful atmosphere, offering a natural aesthetic to your kitchen. They're also anti-slip and sturdy, making them ideal for a kitchen environment where spills can happen often.
Create a Stylish Contrast
You don't have to commit to an entire wall of tiles if you're unsure it's what you want. Instead, you can simply tile half the wall for a stunning contrast with the rest of the kitchen – this is also sure to add more personality to the room, so browse a vast range of wall tiles for inspiration. Plenty of luxury tiles for you to choose from, including colourful, textural and bold tiles, which allow you to create a feature or half wall for a unique look in your kitchen.
Add Warmth to Your Kitchen
If you dream of an inviting, warm kitchen where you can entertain guests – or family members – while preparing delicious meals, then our wood effect tiles might be precisely what you're looking for. Whether as floor tiling or as a featured wall, these tiles can help create a cosy feel and the rustic, traditional style you envision. Additionally, wood effect tiles are great for bringing the outdoors in!
Kitchen tiles can be as varied as you like because they aren't made of hardwood. You might focus on statement backsplashes and cabinetry renovations and completely ignore the tiles. However, tiles don't have to be the ugly stepchild. When done correctly, they can be stylish; you just need to use your creativity to pick the ideal texture, pattern, and colour scheme.
Need help deciding between wood and tile? This kitchen is proof that you don't have to choose. Wood planks run into a hexagonal mosaic tile, creating an eclectic, unexpected, and seriously chic look. Turkish terrazzo tiles make for a graphic floor that perfectly accents the white subway tile. Match your floor tiles to your countertops, and you won't have to worry about clashing. Warm up the space (and add contrast) with a bold, colourful rug.
Live out your hardwood floor dreams with tiles in wood tones. Lay them in a similar pattern to hardwoods, and you'll have the look you've been dreaming about for way less money — plus, tile cleanup is a breeze. Wood on wood: There's a lot of wood in this kitchen, so to complement the cabinets and island, the floor needs concrete tiles in a similar hue. A subtle pattern helps keep it from feeling too monochromatic.
Opt for terracotta floor tiles if you want a laid-back and lived-in kitchen. This home's farmhouse-style kitchen gets a dose of hacienda charm from the hexagonal-patterned floor.
White kitchens can get basic quickly. De-dandify your kitchen without having to swap out cabinets or redo your backsplash by creating a patterned floor with colourful tiles. While white tiles may sound boring and basic, there's a time and place for them in a bold kitchen like this one. The floor could use a bit of basic white tile between the painted shutters and patterned, colourful backsplash.
Convenience, ease of cleaning, and wellness precede high-maintenance designs in dream kitchens. Despite having "all the time in the world," you still want to maximize your limited resources. With countless design options, the convenience and durability that generations have relied on, and efficiency and beauty for all your surfaces, ceramic tile is an excellent choice:
Stain resistance: Tiles are resistant to stains and can withstand all the problems that come with daily life.
Water resistance: When appropriately built, ceramic tiles are the tried-and-true material of choice for use in moist areas, including bathrooms, kitchens, patios, and swimming pools.
Scratch resistance: Tiles can withstand years of constant use and are not readily scratched, torn, dented, punctured, or gouged.
Minimal maintenance: Most messes can be cleaned with water and no harmful chemicals!
Fade resistance: Ceramic tiles do not fade, so you can redecorate and move your furniture anytime.
Tiles can completely change how a space looks, including the heart of the home: the kitchen. Whether you're looking to revamp your current kitchen, renovate it, or start from scratch, our kitchen collection has everything you need. At Naveen Tile, we can help you create the kitchen of your dreams by providing luxury tiles manufactured to high standards. We hope these kitchen tile ideas inspire you to design your dream kitchen. Get the best tiles for the kitchen from www.naveentile.com.