Granite Counter Tops for your Kitchen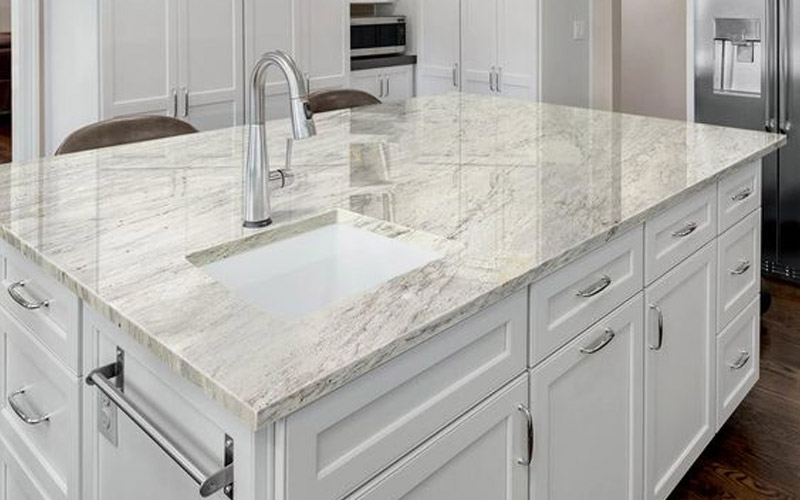 Granite is a coarse-grained, light-colored igneous rock. This natural stone is mostly quartz and feldspar, with some amphibole minerals and mica thrown in for good measure. It has visible grains and is tougher than marble. This natural stone is simply referred to as "granite" by those in the industry who produce, sell, and buy cut stone slabs for further usage. Basalt, gneiss, diabase, monzonite, gabbro, pegmatite, syenite, schist, anorthosite, granodiorite, diorite, and a variety of other rocks are all referred to as "granite" in the industry.
Why Choose Granite for your Kitchen countertop?
It is cost-effective. Granite is more affordable now than in the past, so if you want a beautiful material for your kitchen counters without breaking the bank, granite is a great option.
It is customizable. Since no two slabs of granite are identical in appearance, it's easy to pick one that will stand out and give your kitchen a distinct style.
 It's long-lasting. Your kitchen counters must be able to withstand the test of time. Granite is an extremely hard substance that does not easily chip nor scratch.
It is resistant to bacteria. With all of the spills and messes that are bound to happen in the kitchen, it's critical to ensure that your kitchen counters don't become a health hazard by absorbing hazardous bacteria. Because granite is not a porous material, bacteria and filth are unable to penetrate its surfaces, you can rest assured that your kitchen counter is free of hazardous microorganisms.
Multiple Colours. These slabs come in a variety of colours to complement any kitchen design or décor. With a rice-grain impression, the compact and solid granite-like appearance is rich and vivid. The powerful dark colours sparkle with time, maintaining the kitchen's neat and tidy appearance.
The eco-friendly.Vitrified counter top not only looks attractive and clean, but also spectacular, thanks to its distinct appearance, unrivalled style, and smooth surface. It is eco-friendly, making it an excellent alternative for those who enjoy spending time in nature. The countertop choices range from snow-white, milky, and ivory to rich and dramatic tones with flecks to provide character and warmth to the space. White granite counter tops can also be used to make the space feel bright, fresh, and welcome.
An upgrade of your kitchen counter tops is an easy, affordable way to dramatically increase the value of your home. You'll be amazed at how much the overall functionality and aesthetics of your kitchen or bathroom will improve with new quartz or granite counter tops.
Natural-looking. Granite's beauty comes from its unique, natural patterns. Since granite is mined, it's impossible to find slabs that look exactly alike. You can choose from the wide variety of colours and patterns to dress up your kitchen. After tumbling and polishing, granite looks all the more attractive and elegant. As you walk into your kitchen throughout the day, you'll also notice how your counter beautifully changes its appearance. The lighting makes small crystals in the granite reflect.
Enhances the value of your kitchen. Granite is a timeless kitchen countertop material. Should you plan to sell your home in the future, your granite counter will help add value to your kitchen. The elegant, luxurious look of your kitchen adds to its appeal, making it more interesting to prospective buyers.
Trouble-free maintenance. Daily maintenance is simple when your granite countertop is properly sealed. Merely dust the surface with a soft cloth or clean it with plain water or a mild soap. Use a neutral-pH stone cleaner if more stains appear on your countertop. Never use abrasive or harsh chemical cleaners on your granite.

We at Naveen Tile are delighted to help you with all your granite and countertop needs. We would love to assist you, call us or connect with us at naveentile.com.