How to Clean and Maintain your Living Room Tiles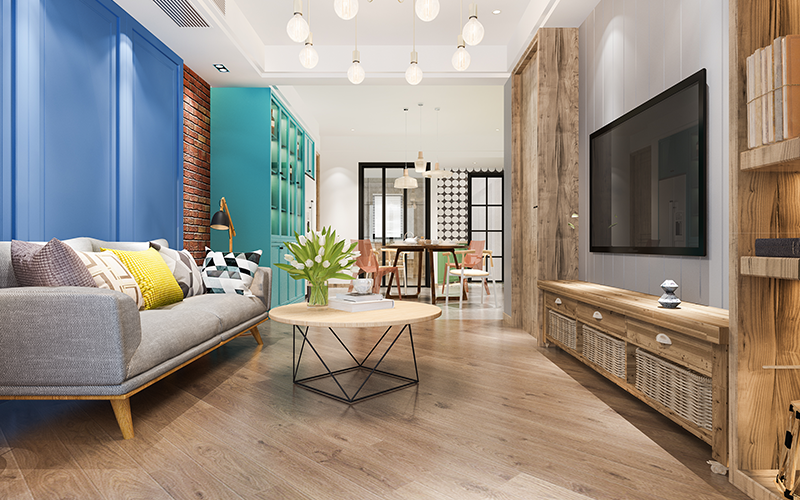 One of the essential spaces in our homes is the living room. Besides the bedroom and the office, we spend most of our time in the living area and enjoy family time. Additionally, we entertain all the visitors and guests in these rooms. They are essential for the first impression in addition to being leisure destinations. Therefore, we must maintain a clean and attractive living room to improve our relaxing time. Although we can use natural materials in our living room, tiles offer the best appearance in high-quality materials. Modern technology has made tiles an effective and hassle-free flooring option. Modern tiles are suitable for the living room because they are long lasting and simple to maintain.
How to clean Ceramic, Porcelain and Vitrified Tiles
The most economical and often used materials are porcelain, ceramic, and vitrified tiles. Sweep and mop these tiles with a mild cleaner for routine cleaning. Spills and stains should be immediately wiped. Deep cleaning is necessary for ceramic and porcelain tiles with textured finishes because dirt particles may collect in the cracks of the textured tile. Use a DIY cleaning solution to mop your floor by adding 3 liters of warm water, three teaspoons of vinegar, one tablespoon of lemon juice, or 1/2 cup each of vinegar, baking soda, and liquid dish soap. Use a brush soaked in a solution of equal parts baking soda and water to scrub and clean the grout lines.
How to clean Natural Stone Tiles
The gorgeous grain patterns, appealing colors, and tactile surfaces that range from glossy to rustic finishes make natural stone tiles stand out. Natural stone tiles, including those made of marble, granite, limestone, slate, and other porous materials, need constant care and upkeep to maintain their aesthetic appeal. Always use a cleaner made specifically for cleaning natural stone to clean natural stone tiles. Conventional cleansers include chemicals that could harm the stone's surface, so avoid using them.
Use warm water and non-abrasive dish liquid soap daily to mop the natural stone tiles. Make a DIY solution by combining one liter of water with half a cup of isopropyl alcohol. Avoid using commercial or homemade cleansers that contain acidic chemicals like lemon or vinegar since they may scratch the surface of natural stone, particularly marble. To keep marble's sheen and luster, use a deep-penetrating sealant. The sealer is an excellent barrier to removing stains from natural stone products.
How to clean Mosaic Tiles
Mosaic tiles create vibrant mosaic designs in places like flooring, backsplashes, and the shower area. They are made up of several tiny pieces of glass tiles. Mosaic tiles are not porous, making them resistant to stains and mold, but their brilliant surface is quickly marred by fingerprints, water, and soap scum.
Use a soft sponge dipped in a mixture of water and a light detergent to clean the mosaic's floor and walls. Never wipe the mosaic with an abrasive sponge because doing so could cause scratches. On the tiles, mist a vinegar and water solution, then tap. One might also wipe the tiles with a cleaning cloth dipped in water and baking soda. Because mosaic tiles include numerous grout lines, it's crucial to clean the grout routinely. Scrub the mosaic tiles gently with a toothbrush dipped in warmsoapy water and baking soda paste.
How to clean Terracotta Tiles
Installing terracotta tiles gives a home's interior design an antique feel. They come in glazed and unglazed terracotta tile varieties, both of which attract dust. These tiles require frequent cleaning since they absorb a lot of debris. For mopping, use warm, soapy water or a mild floor cleaner. To prevent terracotta tiles from becoming stained or dirty over time, it is advisable to seal all pores regularly. Use water, vinegar, or baking soda to make a DIY cleaning solution that one can mop with. Use a scrubber or brush to clean away debris and tenacious stains from the tiles.
In general, cleaning your living area is essential for the longer life of your tiles. One can always do it and keep up with essential maintenance because the entire process is easy and leaves you with a gleaming environment. As new technologies are developed, more and more possibilities in tiles that are also easier to clean are becoming accessible.
At Naveen Tile we not only give you a plethora of options to match and supersede your tile expectations but also some helpful tips to keep and maintain your tiles. So, visit us at our stores or explore our catalogues at www.naveentile.com .