How to Design Your Home in Monochromatic Style with Tiles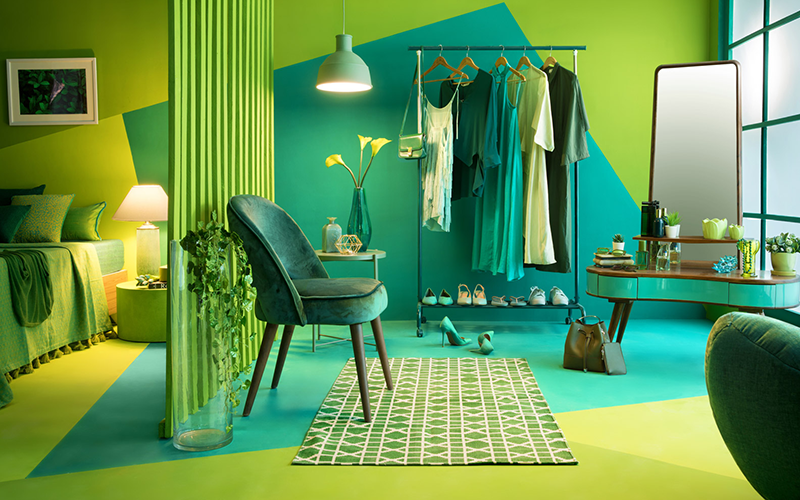 Monochromatic, means containing or using only one colour. Monochromatic or monochrome is the new hype these days. Gen Z to Millennials, all are majorly interested in a single colour house interiors these days. The trend for monochromatic homes was started by some major fashion icons in the past few years.
Lets see how we can style your home in a monochromatic fashion and what tiles will be the best to give you the look you'd like.
Designing or decorating a monochromatic room may sound easy but it isn't a piece of cake. It is a clean and simple design style in which variety is achieved by using different tints and shades from a single colour family, as well as various materials and textures. A few contrasting accent notes can be used to act as a counterpoint. Monochromatic spaces give a sense of consistency, and it also makes the room look bigger.
Start Small
Monochromes are not easy to figure out. When starting of with a mono theme, start small, maybe with just a room. Opting for a monochromatic theme, you'd want to pick a colour that makes you feel good. People contemplate that the colours for the theme are limited to neutrals, but that isn't the case. Depending on your risk-taking gut, you can choose whichever colour you like.Note that hues are the basic colour, tints are created by adding white, shades are formed by adding black, and tones are variations created by adding grey to the base colour.There are numerous points you will have to consider before starting the project for your monochromatic room. Try Porcelain floor tiles, they are easy to clean and maintain, and in black, reinforce a streamlined, monochromatic look all you want is to add a minuscule amount of vivid colour and you have it.
Play with colours and textures
Playing with the colours can be as aesthetic as you want them to be but at the same time it can also be really messy. You should also consider include textures, patterns and contrast combinations when it comes to yourhome. In monochromatic designs, it is the patterns and textures that play the most important role. The more the texture, patterns; the more hues of shade can be used, creating a more artistic look. Think of all the textures you would want to include in your room and not just once.
If colours could be soul mates, then black and white ceramics would make the perfect pair. Team them up and they'll create a striking scheme with lasting impact for your home.
Introduce Contrasts
People usually want to create a monochromatic look but are too afraid to go overboard with colour or experiment. For those people, contrasts and layering the colour can achieve the desired look. Contrasts help in minimising the effect of boldness and still keep the monochromatic effect intact. However, the contrast has to be subtle to keep the motive of adding contrast to bring designs to life. Otherwise, it could turn flat.
Find all that you need for creating your monochromatic look, all the patterns and styles and the hue-based tiles to make your dream look come to life. At Naveen Tile you can find the mono Ceramics and the teal-based pattern tiles, the Porcelains and the geometric print cut style. All your requirements will be fulfilled at just one stop, or rather at one click at www.naveentile.com.