Kitchen Countertop Trends for 2023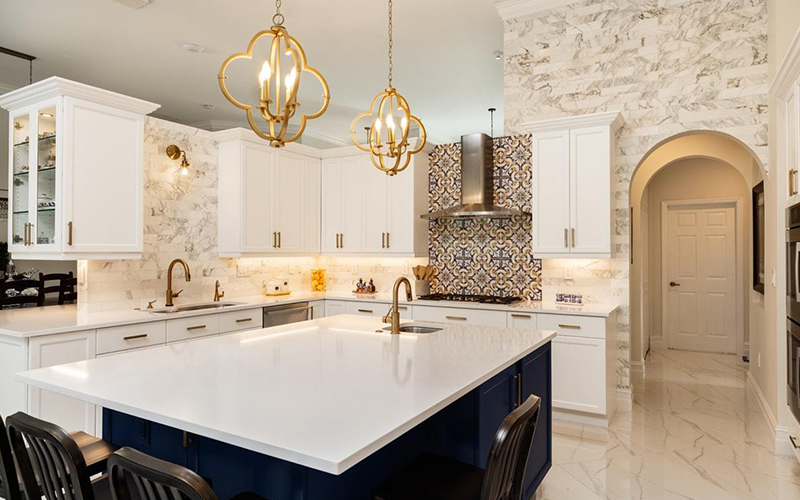 When creating your ideal kitchen, it's important to strike a balance between classic elements and fun colours, patterns, and textures that express your style and vision. There are innovative methods to keep your Kitchen current and fresh, even if you don't want to renovate your kitchen every year. We discuss the top kitchen trends for 2023, including tile patterns, colours, textures, kitchen countertop ideas, and design trends.
We are currently anticipating the trends and fashions that will characterize the upcoming year of 2023, which is only a few days away. We can choose from both natural and artistic stones for kitchen countertops. Experts prefer muted tones like terracotta and earthy browns, as well as hazy greens and blues. However, bold designs are still in. You'll see more and more golden tiles, but matte black and brass are also still famous.
Replace your backsplash tile with something colorful, give your kitchen island a fresh choice of designer tiles. Focus more on what the space needs and less on what is 'trending.' Doing what's best for your space never goes out of style! There will be a significant increase in the blending of various finishes in kitchens, including brass, bronze, stainless steel, nickel, and others. Combining different finishes creates an appearance that is wonderfully warm and inviting. One of the elements of great design, is when a client and a designer feel confident enough to take a chance and select an outlandish kitchen cabinet colour or patterned tile together. In 2023, we'll see even more striking cabinet colour choices combined with other intriguing and distinctive finishes and textured tiles.
A significant trend towards marble slab backsplashes and counter tops, which lend drama and depth to the kitchen is going to be trending. A marble backsplash and counter top set the tone for the entire space and create a bold statement. Shades of blue with more green undertones are a refreshing change. It immediately creates a wow factor, adds interest, and provides contrast. Deep hues always give a classic feel that never feels overly trendy. While stone in kitchen spaces is a long-standing tradition, more and more kitchens are making a point of featuring natural stone as a central component of beauty. Dramatic stones are used widely throughout the kitchen space, and marble waterfall islands that highlight the beauty of the material are becoming increasingly popular design choices.
Over the years, most people have used the same tile for their kitchen counter tops as they did for their kitchen floor. Yet, in 2023, we suggest you not make this mistake when choosing tile for your kitchen counter top and backsplash. You should do anything but this. As for what we suggest, you might want to consider a bold mosaic look for the counter top while your floor uses tiles that provide a hardwood-like appearance. While in years past, using more than one type of tile for a kitchen was unheard of, that won't be the case in 2023. You can and should mix up your materials to give your counter top a unique look that won't be found in any other kitchen. This will be great if you just can't make up your mind about whether to use porcelain, marble, glass, or other types of tiles.
White tiles will be another extremely popular tiles for kitchens, and so will colours with a very natural look. Most designers believe green will be the colour of the year in 2023. You can choose from our wide selection of green tiles that feature anything from vibrant, saturated green to shades that are more understated and even blend in a bit of grey into the tile surface.
Our team at Naveen Tile wants your kitchen to look and feel spectacular, and we've gathered some of the greatest 2023 counter top trends you'll want to incorporate into your kitchen. To learn more about the upcoming trends, and start your next design project, connect with us at www.naveentile.com.