Know your Tile : VITRIFIED TILES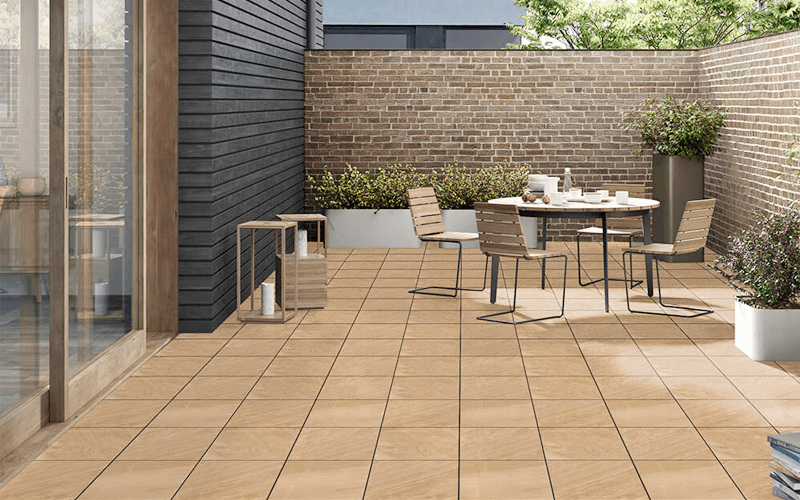 Often when it comes to building a house or renovating your home, the main things you are concerned with are the walls, furniture, accessories etc. We don't put much thought into the tiles that we buy which is a big mistake. Know Your Tile Vitrified Tiles are extremely important as under the wrong conditions, they can become slippery which can lead to accidents or start corroding due to high moisture content. We don't want that to happen, do we?
To avoid such mishaps from happening, Vitrified Tiles would be the right choice for you. Vitrified Tiles are formed by a process of vitrification through hydraulic pressing a mixture of clay, quartz, feldspar and silica, which make vitreous surfaces, thus creating a single mass making them hard with low porosity.
The porosity of a tile is very important to take into account, especially in kitchens, bathrooms or outdoors where one might exercise or where children might play. A tiles porosity refers to the amount of moisture and water it retains. So higher the porosity of the tile, the more water it absorbs and vice versa.
Benefits of Vitrified Tiles 
1. Low porosity
Vitrified tiles are very useful in places such as a courtyard. If you have one or are planning on adding one to your house, this type of tile would be ideal for you as the courtyard is an area where you would be exercising or the kids would be playing and while comparing it to an ordinary ceramic tile, you would not slip on them as they are highly porous making them skid and slip resistant.
2. High Durability
Courtyards are prone to being exposed to a lot of water because of rains and other external environmental factors. Therefore, it might be important for you to use Tiles that are more resistant to water. Vitrified tiles due to their hard-outer covering are scratch resistant as well.
3. Consistent texture
Vitrified tiles can also be used in office spaces to give a more professional look. These tiles have a glossy texture, a consistent design and pattern.
4. Cheaper Alternative to Marble or Granite
Instead of using natural flooring such as marble and granite which would be a more expensive option, you can use vitrified tiles which would be more cost efficient. With its smooth finish, fade and scrape resistant characteristics, you won't even feel the difference.
5. Suitable in places with high traffic
With its high resistance to water, dirt and stain, you don't have to be worried about having to maintain them. Hence making them These highly suitable for places where you would expect a large number of people to keep coming and going.
Vitrified tiles are a more cost efficient and appealing option as compared to granites and marbles as they are highly porous, durable, skid and stain resistant. They can be used in places which are prone to get wet and have a lot of people walking through. Vitrified tiles although have a challenging installation process, once overcome give a great and lasting look to its surrounding area.
To get started on tiling your own place with vitrified tiles, connect with us on projects@naveentile.com