Go Minimalistic-Go Chic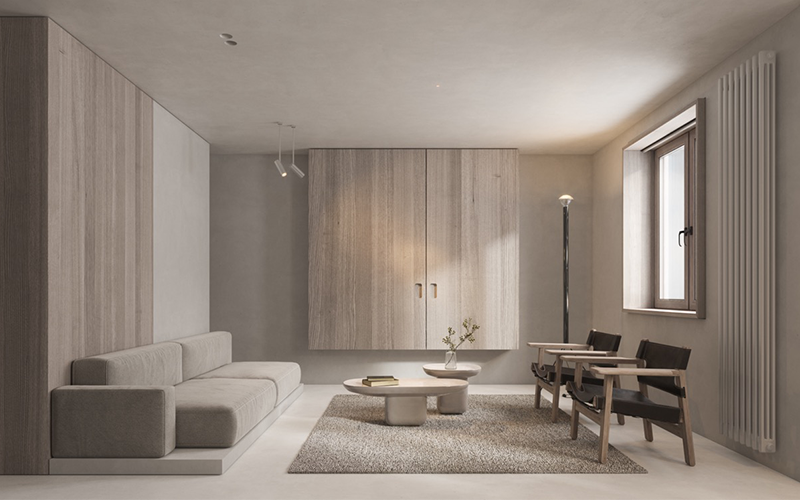 Tiles are the most versatile and popular material to give the interiors a look your heart desires. The colours, designs, and patterns available are in abundance, and therefore getting the right look can be quite a task. Tiles are used in the exteriors or the interiors of the house and can elevate the appearance of the space. The wide range of floor tiles or wall tiles can transform a dull and lifeless space into the most vibrant corner of your house.
Although we have an ocean of vibrant colours offered by tiles, sometimes minimalistic usage can bring about the most exotic looks. These are not only aesthetically appealing but also create an illusion of extra space and are calming to the eyes. The Zen look desired by many can be achieved by using neutral colours in various hues. Textured tiles in traditional shapes are a perfect economical choice for creating a bold effect without using bold colours.
Let's look at a few ways to achieve the minimalistic look.
Go Minimal with Neutral Colors!
Opting for two neutral shades for the walls and the floor can be a wise option for both bathrooms and kitchens. The overall area of a space looks larger than it actually is by using a pastel palette that gives a clutter-free ambience and lets the natural light flow. Adding a pattern in one of the two shades in the shower or the backsplash in the kitchen will bring about a character to these spaces. Bringing two bold shades together, like black and golden in subtle texture, when paired with natural colours will bring the royal sophisticated look you always wanted. Using large floor tiles in simple shades is more appropriate for avoiding distractions and gives a seamless look. They blend well with the pop-ups that give warmth and softness. Limiting the décor and usage of furniture will give the coziness the space demands. Planters are also a great way to bring in the edgy look.
Go Rustic!
Rustic Tiles basically mean Glazed Decorative Tiles with Porcelain bodies. The rustic style emphasizes the natural patterns and colours that never go out of fashion. This unpretentious organic warmth can be derived by using natural earthly shades that would capture the wilderness in you. Tiles in earthly, rough, casual, and vintage shades are commonly used for a warm, minimal, and natural appearance in the house. Reclaimed unfinished colours or glossy options in tiles can be used to suit your sensibilities and bring about the traditional look. The earthly shades are available in grey, red, brown, and yellow.
Modernization in Minimization!
The contemporary modern look requires maximum functionality with minimum exposure of colours and designs. We are now able to mimic the modern flooring trend with a little dash of colour and pattern. Tiles in solid shades have taken off beautifully and have recreated modern frontiers for house owners wanting a clean crisp look. The construction and renovation process has evolved over years and has given rise to" less is the new more ". The sophisticated, non-fussy look has become the demand of the day with more and more people opting for minimum exposure in tile colour. Less need not be boring; focusing on the right textures and neutral colours can bring about the most stunning minimalist-inspired space. Going all white could be one of the most popular options in this category. The colour can be added with furniture or art pieces. 
All these tips will come in handy to you while contemplating the construction or revamping your house. These can be easily incorporated into your budgets and are achievable in today's time.
At Naveen Tile, we provide professional help in making the right choices for your perfect project. Explore our options of minimalistic tiles for a much-awaited construction or makeover of your house. You can log onto www.naveentile.com for further assistance and get prompt solutions to all your queries.