Outdoor Tiles that Reflect your Personality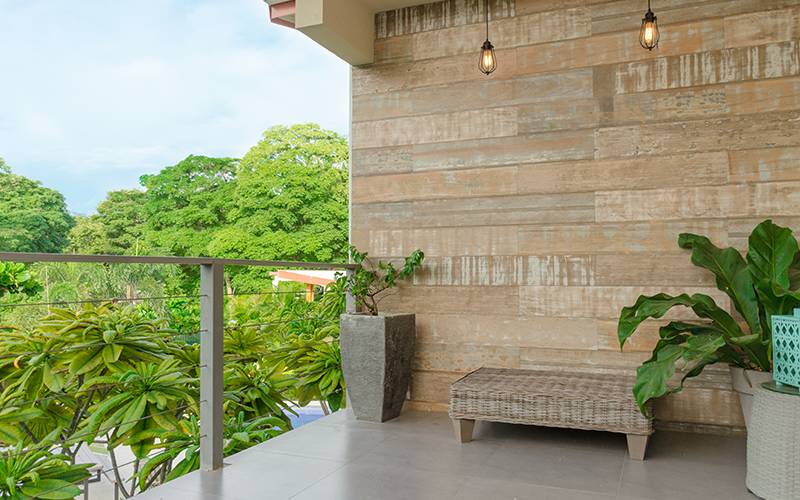 Whether we are considering a patio, porch, or veranda, our outside space is important for every season. Summer evenings can be appreciated, winter afternoons provide a soft warmth, and eating snacks during the monsoon is an altogether distinct and extraordinary experience. But when we redesign our outdoor areas with the right tiles, they appear even more tasteful and sophisticated. These tiles must be tough, resilient, and attractive, all at once. They are the perfect place for some alone time away from the hustle bustle of the city and a terrific place to hang out when you have visitors over. The majority of urban dwellers choose balcony apartments because even a small balcony can easily convert into a quiet retreat, a flourishing garden, or a gathering spot.
Let's look at some of the options for outdoor tiles that reflect your personality.
Asterix Decor
The heavy-duty vitrified tile collection includes Asterix Décor. These outdoor anti-skid tiles give spaces a natural appearance with their brown and beige colour scheme.Excellent for open spaces because the quality of these tiles won't be affected by changing weather.
Tough and Elegant
Naveen Tile's 780-WHITE-CLASSICA is the amazing pick whether you're searching for garden path tiles or a distinctive parking tile pattern. These matte-finished tiles show a lot of promise in terms of resistance to wear and tear. Additionally, you can use these tiles in your parking area. These tiles offer an unmatched level of beauty and guarantee to improve the appearance of your home. Your outdoor space will appear stylish thanks to this heavy-duty vitrified tile.
Chroma Blocks
Chroma Blocks are heavy-duty, multicoloured vitrified tiles that give your outdoor spaces a rustic feel. Any design you choose for your outside area will look great with these traditional balcony floor tiles. They can also handle considerable foot traffic and are sturdy and easy to maintain.
Terracotta
If you enjoy the richness and earthiness of the land's soil similar to how walking on clay feels cool underfoot, look for those commonalities in the reddish-brown terracotta tiles that are popular in classic tile designs. Due to their shadow being so close to nature, they may give your outdoor space a timeless yet natural appeal. Additionally, they are simple to install, which will lessen the manpower time and cost.
Stone Tiles
Stones Tiles have far more sophisticated patterns and endurance, however they are less water-absorbent than natural stone, more simpler to clean, and largely unaffected by chemical or acid spills. They are available in a selection of sizes and price points, which will enable you to choose the one that best suits your outside area.These tiles will give an elegant yet earthy look to your porch or wrap around garden.
Wooden Tiles
Over the past few years, the tile sector has expanded greatly. Tiles are becoming more and more common as a result of rising demand for high-quality, long-lasting interior décor, particularly for underlying installations like flooring. Some of the more recent and quickly developing  tiles are those made of wood. They appear to be wooden blocks, but they are actually tiles with advantages like longevity, ease of maintenance, quality and range in price.
Make a strong statement with your outdoor space, since it speaks volumes about who you are! Install sturdy flooring in your outdoor areas because elderly people and children are more likely to fall and slip there, especially in the winter when it may be damp or frozen from frost.Balconies and outdoor spaces usually reflect a lot on the household, it is commonly considered a space full of peace and tranquillity. We are here to help you make the best choice when designing your space, because we know what it means to you. Connect with us on www.naveentile.com or drop us an email to get started.