Set up your Work from Home space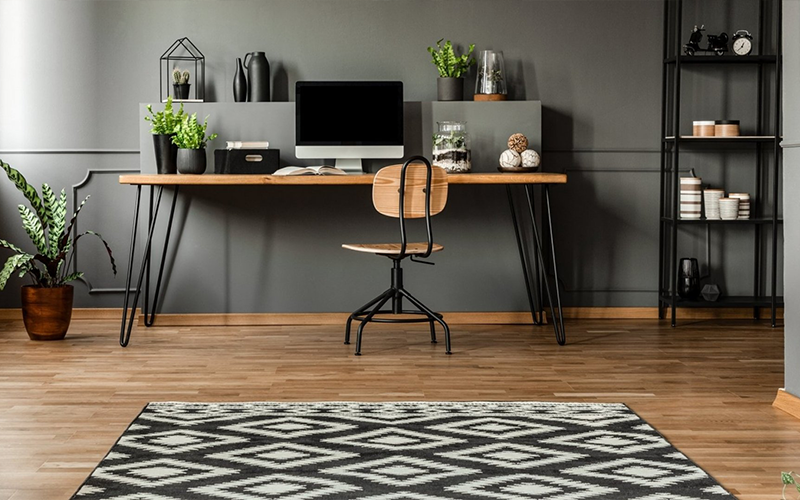 The human race is dealing with times that are unpredictable and unprecedented. The Pandemic has played havoc with the economy and has had a huge impact on the lives of people. While we struggle to adapt to the changes in our daily jobs, "work from home "is the new norm for most of us now. Most of the public and private sector companies have opted for employees working from home to deal with the crisis. Every day we hunt for a place where we are focused and can diligently complete our commitments. It has become imperative to create a space in our house that is ideal for managing our business deals and jobs.
Here's how you can make the perfect space with appropriate tiling for your workspace.
Identify a "Zone"
Many times, we have unutilized areas in the house we never paid attention to. Identifying one such space, and putting it to maximum use is the need of the hour. Tiles are the most economical and way of changing the entire aesthetic of a space and make it most effective for maximum output at work. Ceramic wall tiles are popularly used to create a feature wall that adds drama to the space making it vibrant and full of energy. Additionally, minimal use of furniture will make the space look spacious giving that extra boost to your creative juices. Tiles are available in various colours and patterns which make them perfect for all requirements and taste.
The Kitchen Office!
We have always taken the kitchen as a place for gourmet meals with family, oblivious to the fact that this could also be made into a worthy workplace. A simple backsplash can be incorporated with glass tiles or porcelain in any style of kitchen décor that paves way for that refreshing "office look".  This would give an impression of a visually separate area from the rest of the kitchen. Unused cabinets or a bar cart can be used for storage. Floor tiles are another way to beautify the kitchen space designated for work. They are incredibly durable and easy to maintain. A pop of pattern or colour is also a perfect way of infusing energy into our daily work.
Use the study space:
Many times we are lucky to have a specific study space that can be converted to an office area away from all household distractions allowing us to completely focus on our work. Using wooden ceramic floor tiles will bring that natural calmness just apt for productivity. Feeling close to nature enhances your deliverables, therefore choosing floor tiles with a rustic touch are most suitable for feeling connected. Choose a space with maximum natural light and good ventilation that will rejuvenate your body and relax your mind.
Recreate the garage into a personal workplace:
Avoiding the noise and chaos of a household is not easy. With kids all over the house trying to cope with online school, we desperately look for a place with peace and silence. The garage may come in as your saviour, which may meet all your requirements of peace and solace when transformed. Dark colour floor marble tiles can be used in the garages as they are resistant to damages caused by car fluids, water and dirt. These are good if you are planning to use the garage for a longer period.
 
"Work from Home" can be a good change from the regular office and creating an appropriate working environment is the key to achieving your target. These tips will help you to not only figure out that "personal corner" but also to create an ambience that makes you feel focused and inspired all day!
 
We at Naveen Tile make sure to give you professional tips to make your "work from home" experience a pleasant one. We hope that you can use these tips to create that inspirational space that strikes the right balance between home and office. If you are geared up to start designing, explore our innumerable options of floor and wall tiles that are sure to suit your requirement.