3D Floor Tiles to Transform your Space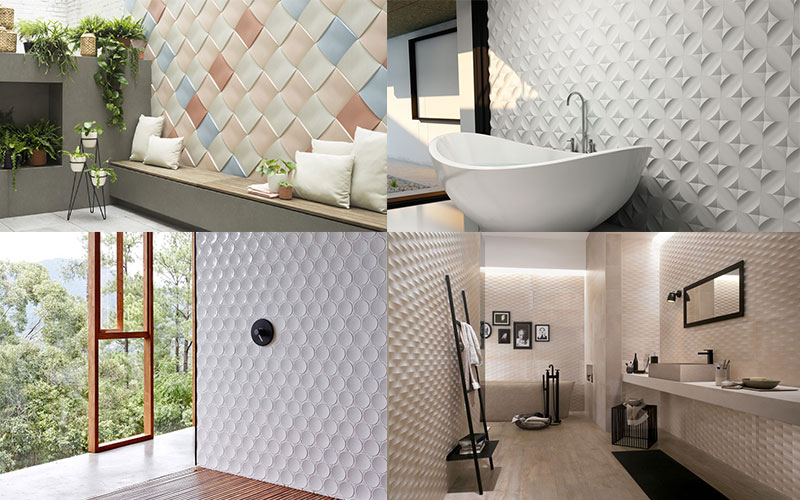 Three-dimensional tiles, a new revolution in the ocean of tiles that can revamp a dull space into an extraordinary one. These types of tiles bring a new dimension to space and add a spunk that could entertain adults or children alike. Available in a huge variety of patterns, colours, and designs; 3D tiles are a perfect choice for people wanting to explore and go beyond the traditional. Used in both commercial and residential spaces, these tiles are the latest trend for completely transforming a space. Easy to install and maintain, these tiles create a unique design that reflects your taste.
Different looks can be added to different spaces for creating a contemporary modern look.
Indoors and outdoors:
The terraces/open spaces can be transformed into landscapes by using tiles reflecting rustic designs. Designs are available to give a no-fuss spacious look. Calm and serene, these tiles could give you the ambience you always desired for a quiet and quality time in your house.
Designs and patterns:
Many designs like the white diamond shapes and leafy patterns can be used as floor tiles for your bedroom to give a luxurious feel. These tiles add depth and space to the environment. Also, tiles with wooden tones and matt finish are other options for that comforting look in the bedroom.
Spaces of the house:     
The kitchen is one of the most used spaces in the house and can have a bold impact with 3D floor tiles. Using print or solid shades in two colours could give you a dynamic impact in the kitchen. These could also be used as a backsplash for highlighting the cooking space on the wall.
Using 3D floor tiles in the bathroom can prove to be most entertaining. With a variety of themes and patterns available for that aqua look, bathrooms can become the ultimate luxury room of your house.
What are 3D tiles made of?
These tiles are made of glass, porcelain, or ceramic material with digital designs imprinted on the tile surface. These tiles are scratch-resistant, easy to maintain and do not absorb moisture. They can easily be cleaned with a wet cloth to get that sparkling look again.
How cost-effective are 3D tiles?
The prices are at par or slightly higher than the porcelain tiles and therefore are very affordable. These tiles come with additional and unique properties with their and can be used in a lot of spaces in your house. The tiles also come in various sizes that can be chosen in accordance with the area to be tiled.
3D tiles are being used extensively in recent times for their exotic and modern look. The multiple layers and the angled designs can transform any space. Indoor or outdoor, 3D floor tiles are available in a large variety to match your taste and aesthetic sensibilities.
At Naveen Tile, we provide professional help in making the right choices for your perfect project. Explore our options of 3D floor tiles for a much-awaited construction or makeover of your house. You can log onto www.naveentile.com for further assistance and get prompt solutions to all your queries.