Tile Trends for Offices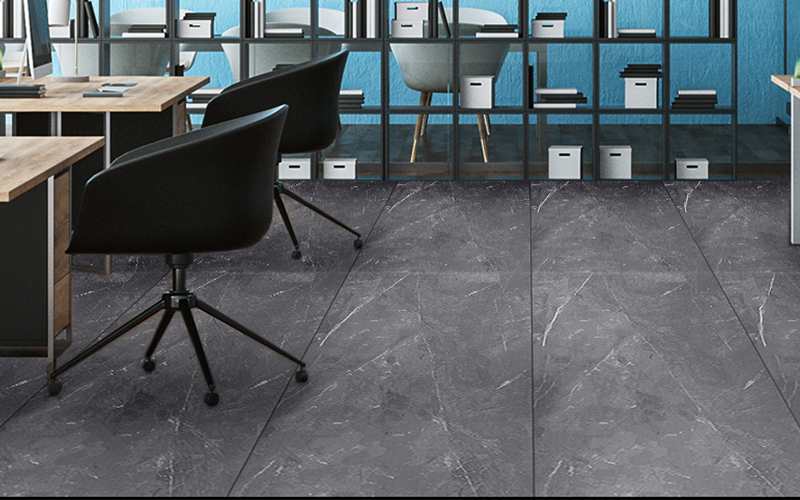 Tiles are one such thing that can transform the whole aesthetic of a space. Since they are relatively more permanent than the rest of the decor, choosing the right floor tiles is extremely important for every space. With the wide range of options in terms of type, colours, textures, strength and size, it can be challenging to determine which ones are best suited for different spaces. If you consider improving your workspace to suit your working preferences, business needs, and personality, you will have many options. Thus, we've provided a list of the best tiles for offices.
Porcelain Tiles
Porcelain tiles might be the most incredible alternative for workplace tile flooring; people appreciate their durability and attractive appearance. Porcelain is a substance that is hard, solid, thick, scratch-resistant, and non-porous. Because porcelain is non-porous, it can endure dampness and stains. Porcelain is more durable under heavy foot traffic. Moreover, various finishes, textures, shapes, and designs offer porcelain.
Ceramic Tiles
Ceramic tiles' offer wide variety of colours, patterns, styles, textures, and sizes to brighten your office environment. They are moisture-resistant, sturdy and easy to clean.
Vinyl Tiles
The most preferred alternative for business flooring is vinyl tiles because of their usefulness and durability. In addition to having hard surfaces, vinyl tiles are waterproof and abrasion-resistant. It is simple to maintain and clean vinyl tiles. They are available in various colours and patterns in sheets, tiles, and planks. Vinyl tiles cannot be refinished due to their intricate construction.
Vitrified Tiles
Vitrified tiles have become a favourite among customers for their chic looks. These tiles offer an alternative to traditional marble and granite and retain their newness even after many years. Vitrified tiles resist diverse weather conditions such as heat, frost and even rain and justify their durability. Investing in vitrified tiles will give you returns in the future. There are different types of vitrified tiles. Let us look at a few:
Glazed vitrified tiles are highly durable and adaptable to different surroundings. Glazed vitrified tiles are easy to install and liven up any room. Glazed vitrified tiles come in various textures, finishes and designs. You can use glazed vitrified tiles in wood, stone, and even mosaic finishes to add a little personality.
Another type of vitrified tile is the full-body vitrified tile just like the other types, this tile is anti-skid, anti-scratch and anti-stain. These tiles offer longevity and durability to their user and don't reflect the light of the sunlight too much; this makes them the perfect option for exteriors as well as interiors. These tiles are ideal if you are looking for easy and hassle-free installation.
The double-charged vitrified tiles are perfect for everyday use as they are scratch-resistant and avoid the accumulation of dust and debris. They can be cleaned quickly and withstand various conditions, such as rain and snow. The double-charged tiles are thicker than the usual tiles by 3 to 4 mm and are made by fusing two tiles.
Vitrified Salt Soluble Technology [SST] are excellent for commercial purposes as they are helpful for mass use. They look perfect in shops and malls and are easy to clean. They are scratch-resistant and durable. These tiles are composed of natural clay. However, it is essential to purchase nano-coated vitrified SST tiles as they enhance the stain and scratch resistance of the tiles. Vitrified tiles are an excellent option for all your home and commercial needs. These tiles are perfect whether you are considering quality, quantity and looks. What's more? They are easy to apply as well. Vitrified flooring elevates the look of any property, and polished vitrified tiles are ideal for many purposes.
Office Tile Trends
When an office environment appears open and bright, it is ideal. To make it appear spacious, you don't need a large room. Designers can manipulate people's brains with the materials they choose for the decor. Rectangular high gloss tiles are one timeless and traditional design. These sparkling tiles immediately brighten the office space, and the shape of the office floor tiles gives the impression that it is spacious.
Using a different type of tile in a small area or corner of the room is another design currently in fashion. The other furnishings will stand out to these distinctive tiles, giving your existing space a fresh look.
What do you think of the concept of a wall of fame? Office wall tiles will create a unique appearance where you can display the name of your company or brand. It will make a polished appearance for the commercial area. A large selection of office wall tiles guarantees your working space's long-lasting and upscale appearance.
One of the brand's key areas is an office. Every component should symbolise your brand, including the inside. You have a variety of possibilities. You can either select the same flooring for the entire office to create uniformity or select different floor tile designs for the various office rooms by their settings. Make sure the office flooring you chose satisfies all the requirements mentioned above. Hence, before making a significant decision, consider consulting the manufacturers or a professional.
Check out our wide range of tiles that are both modern yet draw inspiration from conventional and rich architecture. A brilliant addition to your workspace, these tiles will amp up your space. With a wide range of collections, we aim to bring excellence with the best quality tiles for you. Visit us at www.naveentile.com.