Tiling Tips for your Dream Kitchen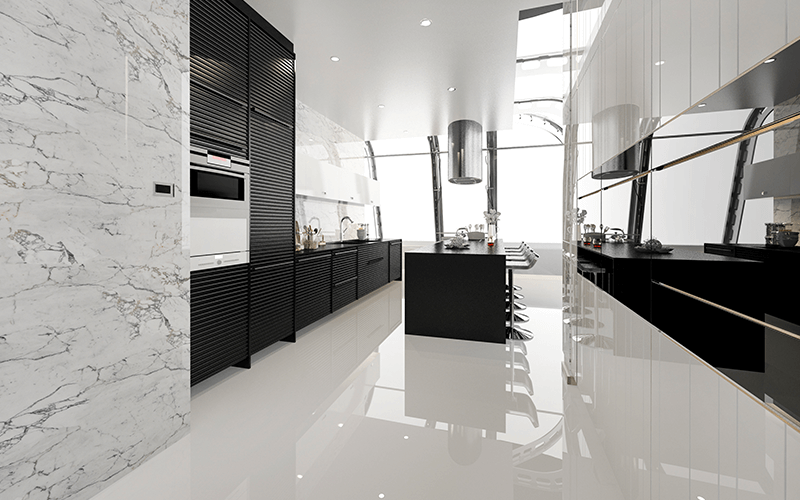 A kitchen is a place where we spend happy family moments. The aroma of good food cooked fills up our senses and satisfies our cravings. The secret ingredients to preparing a delicious meal besides "love" is the perfect calming ambiance of the kitchen. The décor of the kitchen plays a crucial role in making happy memories and finger smacking food. It is imperative to make a perfect choice of "tiles "used in the kitchen. A variety of tiles are available in the markets with different shapes and colors but making the right choice is the key to add that extra flavor to the beauty of the kitchen. While designing the kitchen a lot of research goes into the structural changes, cabinetry, and appliances. A budget is drawn to accommodate all the requirements of a kitchen therefore appropriating thought and money for tiles is important
Let us find out how to choose the tiles most appropriate for your kitchen
Identify the area to be tiled:
The first step will be to identify the area in question which will further help you to decide on the color and size of the kitchen tiles.  Tiles are used on the floor and the walls of the kitchen. Those behind the stove or beneath the upper cabinets are the "highlighters". These backsplash tiles contrast with the rest of the tiles on the wall for instantly catching the eye.
Fix a budget:
There is a vast variety of tiles in the market that caters to different clients and their budgets Budgeted tiles to the luxury ones all are available according to your budget. Making a budget will help you save time and effort in exploring possibilities.
Know the material of the tile:
Amongst the ocean of the kind of tiles, one needs to be aware of the material they are made of. Man-made tiles that are the most economical are also the easiest to maintain. Plain or patterned in different colors and textures these can make a scheme you dream of. These are ceramic tiles, porcelain tiles, glass tiles, gloss tiles, matt tiles to name a few.
Stone tiles may not be as friendly in maintenance as the manmade but managing them with instructions may keep them looking as radiant and fresh. These include marble, limestone, travertine, slate, etc.,
Teaming up:
Play with colors and textures to give vibrant look to the walls. You can also team the wall tiles with wallpapers for an effective and unique look. The added advantage of this pairing is that the wallpaper can be changed easily to give a newer look after every short while.
If you choose geometrical designs make sure to use one bold and the other as a neutral pattern. Also, make sure that solid dark colors are not used extensively but are kept in minimal with neutral tones for giving a spacious look.
Turn the floor into a showstopper:
The large area available in the kitchen can increase the oomph factor of your kitchen, multi-folds. You can dramatize the look by using unusual patterns like color blocks on the floor tiles.  Accentuate the look by placing the tiles in a well-designed pattern.
Last but not the least tip is to know your Lifestyle before making your dream kitchen. How extensive is the cooking in your kitchen, who does the cooking at home are also important points that cannot be overlooked in making this decision. Durability and look are both crucial components in building the right kitchen.
For further consultation and overflowing ideas log on to www.naveentiles.com and get a makeover for your kitchen.