Unique Tile Designs for your Bathroom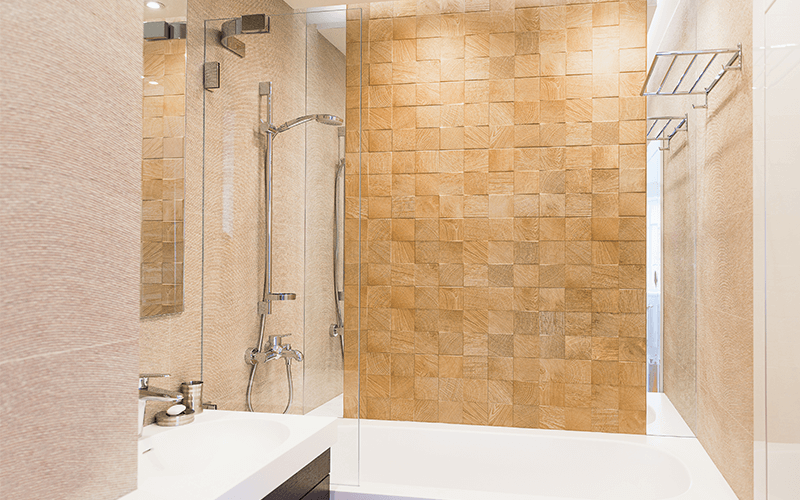 It is rightly said that a bathroom is a place of silent reflection. It is a place where all of us spend a large part of our day relaxing and pondering over things. Yet when it comes to decorating the house the bathroom usually takes a back seat and does not get its share of importance. But this is about to change. Today we have for you some Unique Tiles For Bathroom that will take your bathroom experience a notch higher!
Transform your bathroom with our range of designer bathroom tiles
Vitrified Tiles : Vitrified tiles are a great option for your bathroom floor. Its high absorption and frost resistance capacity makes it easy to maintain and reduces the possibility of mishaps. Vitrified tiles offer an array of gorgeous Italian tiles that will instantly amp your bathroom making the space as chic as the rest of the house.
Ceramic Tiles : Ceramic tiles are another great option that can be used all around the house owing to its unique features. Ceramic tiles are sturdy and frost resistant which makes it easier to walk on a damp floor as it offers slip-resistance. Ceramic tiles are also scratch-resistant which makes them a highly cost-effective and long-lasting option.
Design options : When it comes to designing the bathroom people often feel like they have to choose between tiling the floor or the wall, which is not correct. Our variety of designer tiles now give you the option to revamp your bathroom the way you like with our assortment of tiles which suit the palette of all.
Small space : If you wish to aesthetically and practically uplift your small washroom then the best option to opt for are textured tiles for walls. The texture on the wall adds a whole new depth of style and elegance to any space without any added cost. Opt for smaller and intricate textured over large ones to make your washroom look spacious and elegant.
Large space : If you have a king-size bathroom, then there is no better way to chic it up other than incorporating designer wall and floor tiles. Larger spaces are like your canvas to experiment with different things. With a bigger space, you can go in for wall tiles with a bigger and bolder texture to accentuate your wall and to contour the shape of your bathroom. You can incorporate different varieties of textured tiles on different walls to give your bathroom a dash of contemporary style.
For your bathroom floor, you can go for both vitrified as well as ceramic tiles, as both kinds offer slip-resistance, scratch-resistance, and easy maintenance. They are perfect for a household with small kids and are a cost-effective way to amp up your space!
Colour options : Choosing the right colour for both the wall and the bathroom floor can make or break the deal, literally! Smaller spaces call for designs that create an illusion of a larger space thus making it crucial that you opt for lighter shades for the wall tiles and the floor tiles. Lighter colours make any space look bigger by reflecting more light and thereby elevating the entire aesthetic of the bathroom. While for a larger bathroom you can go for a blend of light and dark shades to effectively contour the shape of your bathroom and make it more modern.
Bathrooms are one of the most spaces in any house yet they are mostly overlooked. Give your bathroom the long due makeover with our range of designer Italian tiles. Connect with us on projects@naveentile.com to get the right consultancy for your dream house!