Vitrified Tiles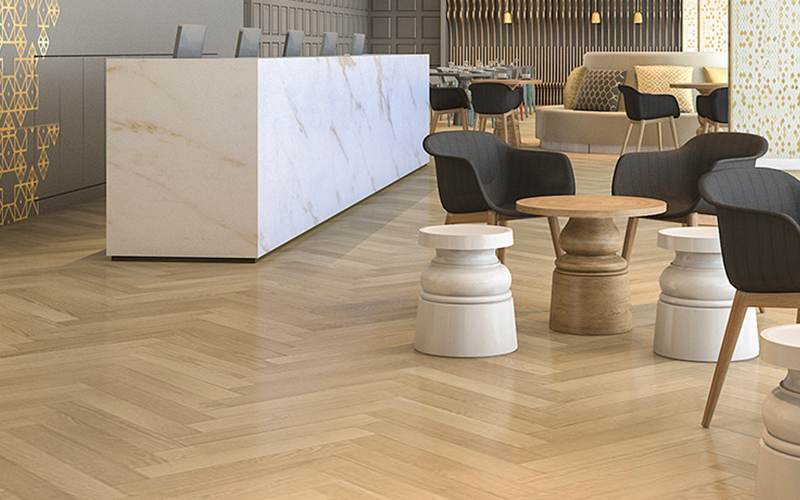 The flooring market has been dominated by vitrified tiles, which are viewed as superior to conventional materials like marble and granite. They are very strong, adaptable, highly functional, and simple to maintain. They also last for many years without showing any symptoms of wear and strain.
For your house, business, or commercial area, vitrified tiles are the ideal choice. The major tile brands have developed a variety of product offerings with the aid of contemporary cutting-edge technologies that best suit a given project with its own unique requirements and adaptations.
Any tile produced by the vitrification process is referred to as a vitrified tile. The tiles are baked during this procedure at high temperatures. Glazed tiles are tiles with a glossy glaze finish. The tiles are given a glaze covering before being fired at a very high temperature.
If you plan to install new tiles to your home's walls or floors, you may get familiar with terms like vitrified, glazed, porcelain, etc. It could become challenging for you to tell them apart. The differences between the two common types of tiles—vitrified and glazed tiles—will be highlighted in this blog.GVT stands for Glazed Vitrified Tiles, to put it simply. The glazed surface of GVT tiles, as their name suggests, allows for a wide range of design, artwork, and surface textures, such as wood grain, bamboo, or stone.
The word "vitrify," which refers to the process of creating glass or something similar to glass, is where the name "vitrified" comes from. The term "vitrified tiles" refers to tiles created utilising the vitrification process. The tile is renowned for having a lower water absorption capacity and for being stain resistant. Clay and silica are typically used in the composition of vitrified tiles. A non-porous, glassy-textured tile is created with this mixture.
Glazed Vitrified tiles
Since the designs on these wall and floor tiles are digitally printed on them using current digital printing technology, glazed vitrified tiles are also referred to as digital glazed vitrified tiles. As a result, a vast variety of gorgeous designs, colours, finishes, and patterns are made available for digitally glazed vitrified tiles.
These tiles are a popular option for usage in both indoor and outdoor applications because to their glossy and smooth texture.
When it comes to enhancing the aesthetics of your room, glazed vitrified tiles are the obvious choice. They are classy and offer a number of options, including colour, pattern, and finish. They are a perfect option for both homes and offices since they combine beauty and usability.
GVT tiles may now be produced to resemble marble, hardwood, and a variety of other intriguing textures and styles, all thanks to the development of digital printing technology.
Double Charged Vitrified tiles
Excellent strength and durability are provided by double charged vitrified tiles. They are thicker than typical tiles and created by melting multiple layers of colour together. These tiles are very easy to clean and incredibly durable because of their structure.
Double charged vitrified tiles are the ideal option since they are made to withstand severe weights, making them ideal for commercial and industrial locations with high foot traffic.
Reputable manufacturers use cutting-edge technology to create double charged vitrified floor tiles, which results in long-lasting designs that hold up well and are undamaged even after years of use.
While GVT tiles and double charged vitrified tiles have some peculiarities, all premium glazed tiles and double charged vitrified tiles are scratch- and stain-resistant, simple to clean, and easy to maintain.
Between vitrified and semi-vitrified tiles, there is also a quality variation. Semi-vitrified tiles cannot compare to vitrified tiles in quality.
Semi-vitrified tiles are now offered in a variety of finishes, including matt, glossy, and sugar finish. However, a number of tiles, raw materials, kiln temperature, and other variables affect how much water is absorbed.
To understand the distinction between semi-vitrified and glazed vitrified tiles, it would be helpful if you could view the tile box. The semi-vitrified tiles are appropriate for use indoors.
They are widely accessible and less expensive than vitrified tiles. It is well-liked because of its affordability and toughness.
We at Naveen Tile offer a large variety of both Glazed vitrified tiles and Polished Glazed Vitrified Tiles. Connect with us for more details.