Why White is always right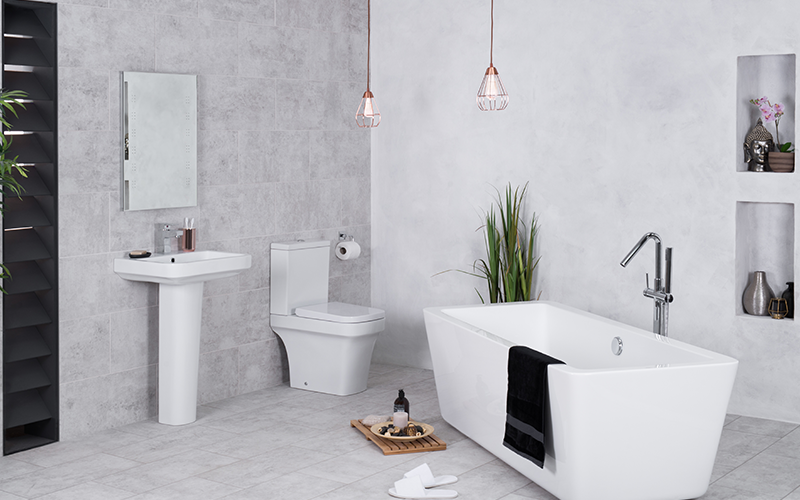 The colour white is synonymous with tranquillity, class, and style. It has been popular in the architecture and fashion industry for decades. This timeless colour lends grandeur, sophistication, and style to any space you wish to cover. It accommodates all other textures and patterns in a design and evokes a sense of calmness to the space. The simplicity and versatility of white have won millions of hearts and has been the go-to choice for many in recent times.
In the vast ocean of colours in the tile industry, white tiles have carved a niche for themselves and are an important part of any contemporary or traditional structure.
With our tips to use these tiles on the walls or the floor, you are sure to be contemplating adding these to your space.
The Whitewood
If you are a fan of the Minimalistic look, white floor tiles are a perfect pick to create the most serene look. These tiles will maximize light and make the area look bigger than usual. Porcelain or ceramic tiles in white are easy to maintain, cost-effective, and durable. White wood-like tiles give a sense of order and lightness, while the glazed ones introduce mirror reflection which visually widens the room. Plain white tiles can also be combined with the wooden boards for the much desired Scandinavian look that is welcomed in all interiors. Low absorption of ceramic and porcelain white wall tiles are perfect for spaces with high moisture levels like bathrooms and kitchens.
Majestic White-Marble tiles
These tiles perfectly imitate the natural stone and have all the ingredients of the majestic royal look. The cost of the natural stone is high, therefore using these tiles are a more desirable option. The marble-like tiles are a perfect blend of cost-effectiveness and style that will make your space look impeccable and flawless. These marble tiles used in the floor or the walls of the living room when laid with mosaic borders will evoke the sense of a luxurious space.
The Handmade Whites
Crafted by hand, these white tiles have an imperfect and irregular finish. Made of terracotta, these clay tiles are an artisan's delight that can transform the space and can give a unique character to it.Available in glazed or matt finish, they are always in vogue for their rustic look and finish. The organic transition of the space with these white floor or wall tiles will bring you closer to the snowy feel that nature offers. Suitable for both indoors or outdoors, these are apt for all areas screaming uniqueness.
Chevron white
Trending in current times, these rhythmic tiles are most suitable for creating a clean fresh look. The zig-zag effect created breaks the monotony of white and gives it an interesting illusion of depth. These are often used for a standout backsplash in the kitchen or the shower areas in the bathroom. The bright white can be most effective in creating a chevron statement when placed in a diamond layout to make the wall look wider and deeper.
The Geometric white
The honeycomb pattern of these geometric tiles is a scene changer as they lend a twist to the plain dull wall. This pattern has gained popularity owing to the uniqueness it brings to a mundane wall. Plain square tiles are another pocket-friendly pattern that is not just a plain tile. It can be a head-turner when grouted with grey colour to add drama to the walls. Used for many decades, these tiles have evolved in their look and have been gaining momentum with their additional styling.
However, if you want to steer clear of these geometric patterns, then the mermaid whites are yet another swanky way of displaying your style on the walls. The mermaid white has been instrumental in creating a classic yet modern look for a space.
Dazzling whites
Large-sized polished white floor tiles are instrumental in giving a pristine finish to the walls of your house. This dazzling pattern adds to the glamour quotient of your space and can be teamed with modern contemporary furniture for the la-di-dah look.
The humble white is as imperative as the other colours on the palette and cannot be underrated. The power of white speaks volumes when placed in the right areas. It is the most adaptive colour that contrasts well with all colours on the palette and has been a favourite since time immemorial.
We at Naveen Tile provide professional help in making the right choices for your perfect project. Explore the current trends with our white tiles to make your space a unique one. You can log onto www.naveentile.com for further assistance and get prompt solutions to all your queries.