Bathroom Tile Trends of 2022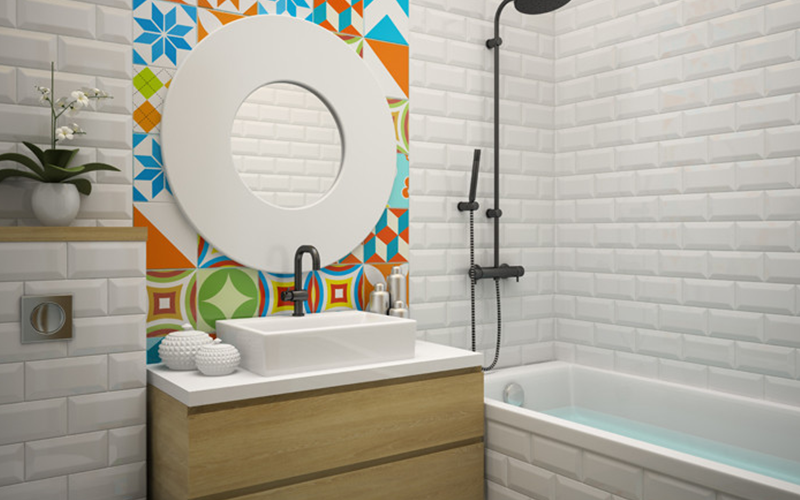 In past few years, bathroom design has finally received the recognition and attention it deserves. Your bathroom tiles are frequently exposed to numerous pressures, such as heat and water, making them difficult to maintain and more difficult to install properly.
Bathroom tiles come in two categories: floor tiles and wall tiles, and both are crucial to the design of a beautiful bathroom. To assist you in choosing trendy tiles and designs, we've produced a list of the top tile design trends for 2022.
These days, bathroom tiles come in such a wide range of shapes, colours, sizes, and designs that it can be very puzzling. However, there is no reason to worry. We are ready to assist you. The top bathroom tile trends of 2022 are listed below, whether you simply want to repaint your bathroom or have recently purchased a new home and want to deck it out in style:
Matte Finish
According to the most recent bathroom tile trends, glossy tiles are no longer the popular option. Compared to glossy tiles, matte tiles give your bathroom a more natural appearance and are simpler to clean and maintain. These bathroom tiles are also non-skid, making them an increasingly popular option among homeowners and interior designers. With dark-coloured tiles like these, you must take into account appropriate lighting choices if your bathroom receives little natural light.
Graphically Patterned Tiles

A bathroom tile with a graphic pattern is everything but uninteresting. Modern homeowners are gravitating more and more toward bathroom tiles that bring a little humorous tone into the decor. To give your bathroom a unique touch, choose from edgy and dramatic patterns or gorgeous motifs.
Tiles with graphic patterns give the bathroom a wonderful touch. Whether it's a floral or geometric print, everything is currently quite fashionable. It is most likely the simplest method for including an accent wall in your bathroom.
Include these graphic pattern tiles in your bathroom if you want a trendy effect with the least amount of work.
Wooden Finish Glazed Vitrified Tiles
Wooden Finish flooring may not be the most popular choice for bathroom tiling in homes, but it has a subtle elegance that cannot be matched. For homeowners who are careful about always keeping the bathroom area dry and immaculately clean, we believe that this particular bathroom tile style is ideal.Check out our 4092 Wood , if you wish to explore this style.
Marble

Marble has an incomparable elegance that can be carried over to the floors in your bathroom as well as the rest of your home. In 2022, choosing softer tones in marble tiles for the bathroom is considered fashionable. Marble is a symbol of wealth. The distinctive patterns on each individual marble slab make it a highly personalised bathroom tiling solution.
Vitrified Tiles
Vitrified tiles, once thought to be the greatest option for flooring in living rooms and bedrooms, are gradually making their way into bathrooms. Glossy vitrified tiles on bathroom walls are becoming more and more popular, especially for the elegance and class they provide to the space as a whole. Glossy vitrified tiles are the best option if you want to add natural features like marble and stone to your bathroom. The two most common sizes for bathroom wall tiles are 600x600mm and 600x1200mm.
In regard to these, here are some additional factors to think about and keep in mind while making your choice for bathroom tiles:
Cost-effectiveness Bathroom tiles are often built to last, so if the tile is worthwhile, your redesign does not always have to be on a budget.
By employing various forms, sizes, and colours, you may balance the bathroom's tiled walls and floors.
Anti-skid bathroom tiles are a must. This fundamental condition should be met by every choice you select.
Your chosen style should balance both functionality and fashion. Are the tiles beautiful but very challenging to maintain? Then they should be avoided at all costs!Naveen Tile has multiple options and variety to meet all your tastes, whims, and requirements when it comes to floor or bathroom tiles. Check out our collection at naveentile.com or connect with us on Instagram or mail us at projects@naveentile.com .