What to choose?
Choosing between ceramic tiles and porcelain tiles could be quite tricky, but once you've evaluated the pros and cons involved in these types of tiles, it will be easier to make decisions, to make you familiar with either of the types, let us first understand the nature of these tiles. Wall and floor tiles cannot be decided only based on their design or cost, since it's a crucial long-term investment, it is important that you know deeper about ceramic tiles and porcelain tiles.
What are they made of?
| | | |
| --- | --- | --- |
| | CERAMIC TILES | PORCELAIN TILES |
| Constituents | Made from red, white or brown clay | Made from a mix of finely ground sand and feldspar |
| Density | Less dense and softer comparatively | Denser and stronger compared to ceramic tiles. |
| Porousness | Absorbs more water compared to porcelain | Absorbs very less water, lowest absorption rate of 0.1% |
| Durability | Good durability, but lesser than porcelain | Strong and very durable due to high temperature mixing |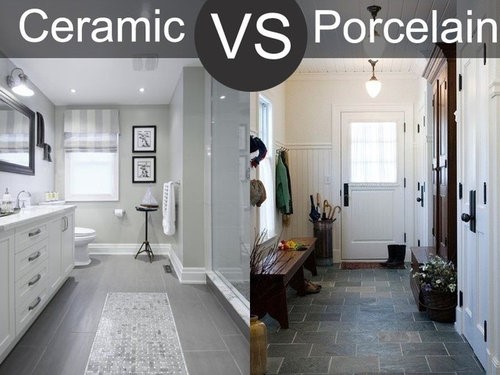 It's important to know more than just the costing when deciding between tiles.
PORCELAIN TILES:
Advantages:
High water resistance: porcelain tiles due to their vitrification process, provide very high-water resistance. Porcelain is the best option because they have the least absorption rate of less than 0.1% according to international standards.
Durability: porcelain tiles are made in very high temperatures, thus making them very strong and durable. For commercial applications such as offices and pubic spaces, porcelain tiles are the best option.
Highly stain resistant: porcelain tiles are vitrified, meaning they are highly impervious to dirt. Especially when it comes to kitchen floor tiles and bathroom wall tiles, staining is constant and it is almost impossible for stains to seep into porcelain tiles, they are easy to clean as well.
Low maintenance: since porcelain tiles are very strong, it is easy to clean dirt off especially on kitchen and living room floor tiles. Proper cleaning of grout along with the tiles will ensure good durability.
Disadvantages:
Expensive: because of its complexity, porcelain tiles are very hard and often expensive. Contractors find it more difficult to work with compared to ceramic tiles and the cost is a little higher.
Weight: given the advantage of high density and strength, the same nature poses as a disadvantage when it comes to weight. You must make sure that the structure can handle the weight of porcelain tiles before opting for them.
Grout: grout is common when tiles are involved in flooring, it is the filler material used between tiles when laid on flooring. Although porcelain wall and floor tiles are easy maintenance, it is important to choose a good water-resistant grout.
CERAMIC TILES:
Advantages:
Water resistant: ceramic tiles provide good water resistance, especially when it comes to moist and damp environments like bathroom floors and porches, ceramic tiles are an excellent option.
Better design options: tile manufacturers in India have an exemplary set of ceramic tile designs for multiple personal and commercial applications. Floor tile stores across the country provide you with many different types of designs to choose from for the right fit.
Allergen advantage: over time, ceramic tiles do not harbor allergens and they prove to be a relief for people with allergies because the tiles can be cleaned off easily and no one wants a floor which they are allergic to.
Cost effective: construction is expensive and people often tend to find affordable ranges of tiles, ceramic tiles compared to porcelain tiles are very much affordable, they are cheaper at cost and for installation as well.
Disadvantages:
Hard to clean: ceramics are slightly less easy to clean when compared to porcelain tiles, along with which grout can be an issue, the flooring would need regular scrubbing and cleaning to keep them looking fresh and presentable.
Weight: ceramic floor tiles and wall tiles are very heavy and handling them can prove to be quite difficult, if your structure does not support heavy flooring then it is advisable to go for a lighter flooring option.
To conclude, porcelain and ceramic both are excellent options for flooring, it is important to weigh the pros and cons of either before you buy floor tiles or wall tiles for your building.

For more information on Ceramic and Porcelain Tiles, connect with us on projects@naveentile.com