Conscious Tile Styles for your Home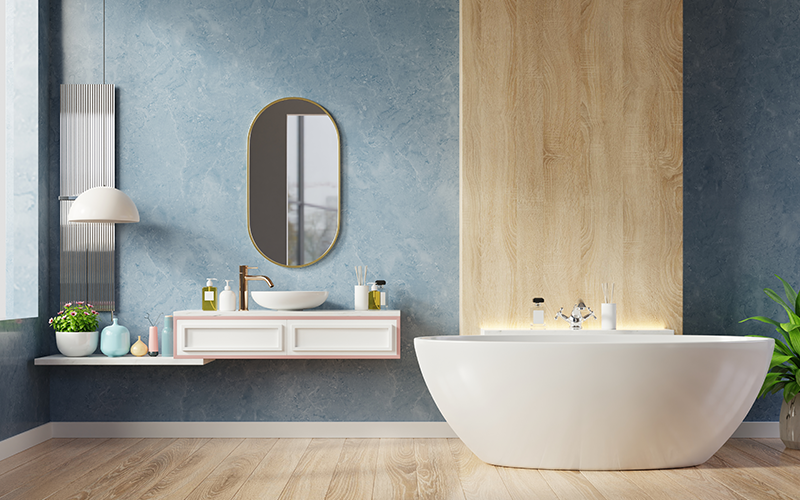 Whether you're designing the interior or exterior, the walls and floors of the house are crucial. Today, with so many options, including 3D and digital tiles, choosing the perfect tiles and designs for your house can be challenging, especially for the bathroom and kitchen.
When it comes to simplicity of maintenance and hygienic living, tiles are seen as an investment. As a result, one should make a careful selection.
As professionals, we suggest that you carefully analyse the tile's type, size, and style, as well as whether those factors will work with the room's current aesthetic. It's important to keep these basic factors in mind while choosing the ideal tile combination. After envisioning the room in various tile patterns, choose the arrangement that best suits it. Tiles must be durable enough to withstand regular wear and tear.
When purchasing tiles specifically for flooring, make sure you don't purchase the ones that belong on the wall. It's crucial to conduct prior research and understand the fundamental distinctions between the two features. Flooring tiles should have a COF (Coefficient of Friction) grade of 0.5 or higher in contrast to the thin, slick wall tiles in order to provide an acceptable level of friction for motion control. Similar to how floor tiles can only absorb a maximum of 3 per cent water, wall tiles have a far higher water absorption capacity that can reach up to 10%.
The most popular tiles for the home include porcelain tiles, cement tiles, marble tiles, mosaic tiles, glass tiles, wooden tiles, granite tiles, etc.
Let's explore what different tiles are setting the tone for this year's aesthetic catalogue.
1. Wood
Simply put, the wooden look is too tempting to pass up. Wooden tiles perfectly complement any kind of design, no matter how modern, contemporary, or vintage you want your home to look! The matte-finish ceramic tile or check out our 4092 WOOD Glazed vitrified which will look great on your living room floor and walls. It is a tile with several uses that is also cost-effective. . It can be paired with our other highlighter tiles from various sections or used as a standalone tile.
As the greatest substitute for real wood flooring currently on the market, you can also try wooden planks. In addition to being easy to maintain, it comes in a variety of wood tones and textures.
2. Floral Tiles
For more than 5000 years, floral tiles have been adopted to enhance the beauty of interior spaces. In the past, flowery tiles were mainly used in bathrooms, but as time and design options have increased, these tiles are popular with homeowners and those wishing to refurbish their space. They may be used to create statement walls or add beauty to flooring.
These tiles have the power to provide a sense of happiness and tranquillity to the room. These gorgeous tiles can be used in banquet halls, offices, living rooms, dining rooms, kitchens, pooja rooms, and more.
3. Brick Wall Tiles
If you live alone or in an apartment, the exterior of your property can reveal a lot about the inside and general vibe of your home. This type of  tile collection has deep grooves that give it a more natural appearance and feel, improving your walls' appeal.
What else? These tiles are simple to maintain and clean and can be used to build accent walls inside the house.
To Explore our catalogues please visit www.naveentile.com or connect with us on projects@naveentile.com for more information.