Know Your Tile: Double Charged Vitrified Tiles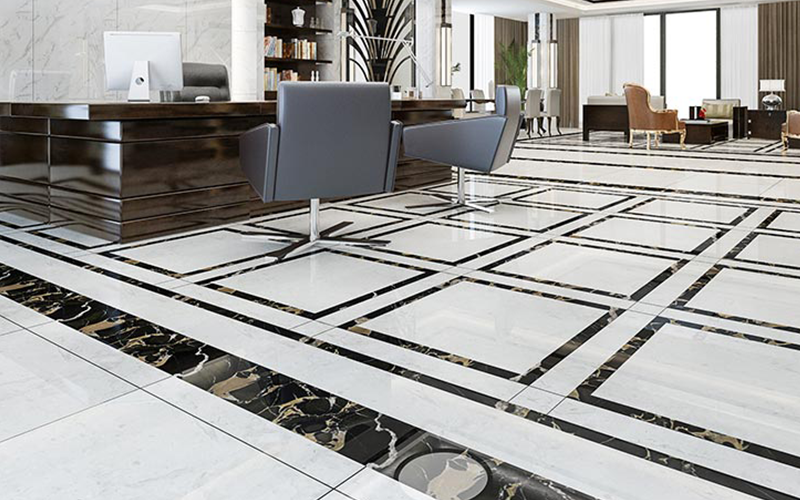 Clay, quartz, feldspar, and silica are mixed together to make double charged vitrified tiles. These types of Vitrified tiles are 3 to 4 mm thicker than regular tiles and are created by combining two layers of tiles. This method creates tiles with a durable surface.This suggests the design mix's upper layer is 3 to 4 mm thick, accounting for over 30% of the total tile thickness. The design mix is fed into the tile body and pushed into the tile body when the tiles pass through a press. The thick pigment layer melts and fuses when fired at a high temperature, becoming a part of the tile body, rather than a layer like Glazed Vitrified tiles. The tile's surface is nano-polished to make it non-porous, extremely durable, and abrasion-resistant.
Even though double charged vitrified tiles are more expensive than ceramic or other tiles, they are well worth the investment. Double charged vitrified tiles are fairly priced, especially given their enhanced quality.
These tiles are appropriate for a variety of settings, including the bedroom, living room, dining room, restaurant, hospitals, showrooms, and other high-traffic areas. Double charged vitrified tiles are thicker than regular tiles and manufactured with modern technology. They are also the ideal solution for all commercial spaces and spaces with frequent foot traffic. These floor tiles can be adjusted to match the aesthetic needs of any space, with breath taking designs and long-lasting durability. They are quickly becoming the most popular choice for floor tiles due to their numerous advantages over traditional flooring solutions.
Why should you choose Double Charged Vitrified Tiles?
1. Smooth appearance andresistant to fading and scraping.
2. Extremely easy to clean and are resistant to water, grime, and stains. As a result, cherry-picking them for internal or exterior reasons is simple.
3. Great alternative to genuine stone floorings like marble and granite because they have low absorptivity.
4. Double Charged Vitrified Tiles are popular in homes because they can withstand high usage and have a longer lifespan.
5. No other Vitrified Tile comes close to the strength of Double Charged. It is the most powerful of all. It is even more durable than Vitrified Full Body Tiles.
6. Double Charge is a premium type of Vitrified Tile that is built to last. Glazed Vitrified and Polished Glazed Vitrified Tiles are only for aesthetic purposes; for long-term use, choose Double Charged Vitrified Tile.
Let's now look at the differences between Glazed Vitrified tiles and DoubleCharged Vitrified tiles
Glazed Vitrified Tiles
Glazed vitrified tiles are sometimes known as digital glazed vitrified tiles because they have designs digitally produced on them using advanced digital printing technology, giving them a sparkling appearance. As a result, digital glazed vitrified tiles come in a wide selection of beautiful designs, colours, finishes, and patterns.
The shiny and smooth texture of these tiles makes them a popular choice for usage in both outdoor and indoor settings.
When it comes to enhancing your environment, glazed vitrified tiles are the preferred choice. They're sophisticated and come in a range of colours, patterns, and finishes. They are an excellent choice for both homes and offices since they combine beauty and power.
Glazed Vitrified Tiles may now be manufactured to look like marble, hardwood, and a variety of other textures and styles thanks to the arrival of digital printing technology.
Double Charged Vitrified Tiles
Double Charged Vitrified tiles are extremely strong and long-lasting. They are thicker than regular tiles and are manufactured by fusing layers of colour. These tiles are incredibly durable and easy to maintain due to their structure.
Double Charged Vitrified tiles are an excellent solution for commercial and industrial settings with high foot traffic since they are designed to withstand a lot of weight.
Double Charged Vitrified floor tiles are manufactured using cutting-edge technology, resulting in long-lasting designs that are also sturdy and unharmed after years of use.
While there are some distinctions between Glazed Vitrified Tiles and Double Charged Vitrified tiles, all high-quality Glazed Vitrified tiles and Double Charged Vitrified tiles are stain and scratch resistant, easy to clean and maintain, UV neutral, and ideal for a wide range of areas and applications.
Whether you're building a home or a commercial establishment, Naveen Tile can assist you with all of your tiling needs. We provide a variety of Glazed and Double Charged Vitrified Tile selections. Visit us at www.naveentile.com to know more.