Essential Guide to Choosing Suitable Tiles in 2023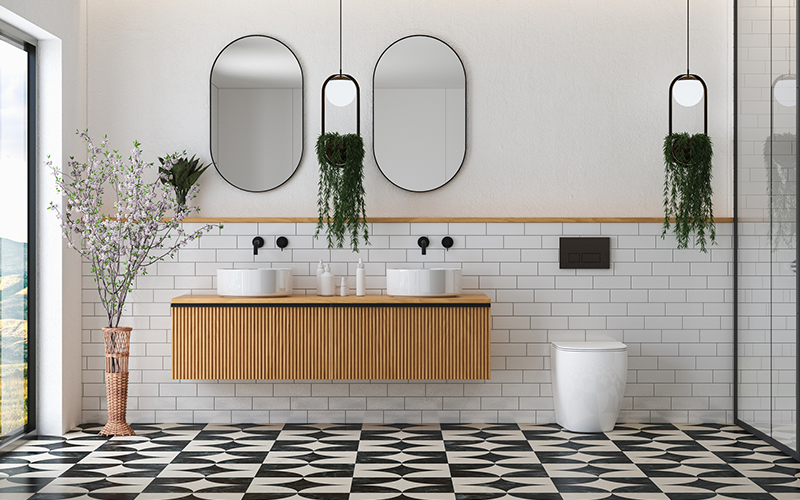 Tiles are no longer exclusively for kitchens and bathrooms. The newest textures and finishes can be used in your living room, dining room, or bedroom.
Let's take a look below.
Natural Tiles
Slate, limestone, and polished granite can all look great in modern interiors, so natural materials shouldn't just be used in historic homes. Although they are the priciest option, they are the most durable and get better looking with time.
Travertine stones are naturally pitted, and the aged surface gives a charming, lived-in appearance ideal for a casual kitchen. Dark slate tiles that won't require as much cleaning can be used in busy areas. Designer goods look lovely against polished stone. Richly coloured large-scale limestone tiles go well with wooden furniture.
Porcelain and Ceramic tiles
Ceramic and porcelain tiles are a fantastic substitute for natural materials since they are durable, lightweight, and relatively simple to install. They are the best option for bigger spaces or places where you have a tight budget because they cost lesser than natural materials. The new trends in large tiles are stylish and can produce a hotel like chic appearance.
Choose porcelain tiles with a simple design, no texture, and an excellent colour if you prefer understated flooring versus dramatic. For a room with serious style, choose neutral-coloured porcelain tiles with a textured finish. Use coordinating ceramic floor and wall tiles to create a roomy wet area.
Vintage tiles
With their timeless designs and lovely finishes, vintage floor tiles—reclaimed, recycled, or copies of the original tiles—are a terrific way to give your floor personality. Reclaimed bricks look fantastic in buildings with a country-style aesthetic, while monochromatic designs are a classic option that can be used in both new and old residences. Victorian-style patterned tiles feature lovely patterns and go well with buildings from the same era.
Other points to keep in mind.
Is that a wall tile or a floor tile?
The essential thing to remember is that while wall tiles cannot be laid on floors, floor tiles can be installed on walls. Compared to floor tiles, wall tiles are much lighter and thinner, making them much more brittle. Additionally, wall tiles are produced using a distinct glaze not meant for use in high-traffic areas. In essence, wall tiles are not meant to support loads. Make sure the gorgeous tile you fell in love with isn't a wall tile if you're tiling a floor.
Do you want a matte or gloss finish?
It's up to you to decide. However, choosing a matte finish for floors where there may be water (such as bathrooms or front entrances) is advisable, as a gloss surface will be slippery when wet.
What design or colour do you want?
Since there are thousands of designs available, you should have a clear notion of what you want.  Consider bringing a sample of the countertop while choosing your tiles if your project includes a countertop installation. Getting creative by looking at the countertop is a terrific idea. Start by selecting a colour from the countertop that you genuinely like. Additionally, tiles come in patterns that resemble wood, marble, and slate.
Are you looking for rectified tiles?
These tiles have had their original edges ground off so that they all have four perfect edges and are the same size and thickness across the whole batch. Your grout lines can be significantly reduced, and your tiles can appear seamless using rectified tiles. Grout lines can be as tiny as 1.5 mm, but you will still need a thin grout line to give the building breathing room and room to expand.
Regular tiles that have undergone this additional treatment are known as rectified tiles. Regular tiles have a reasonable width and length tolerance. Therefore, there will be differences between the tiles. They might not sit flush with one another, resulting in a less-than-ideal appearance. Rectified tiles produce a nearly seamless, flawless appearance. However, they require installation on a base that is ultimately level and smooth, and they are significantly more expensive.
Choose something that is compatible with the character of your space.  Our tiles are a popular choice with exclusive tile designs for bathrooms, kitchens, outdoor and much more. We hope this helps you speed up your tile selection process, and while you are committed to creating your dream space, we are committed to bringing you the best tiles. We understand every floor is different, and if need be, we also offer customised solutions to our clients. What are you waiting for? Read through the guide, make notes and give your space exactly what it needs with our assistance. After all, the floors take your space to new heights. See you on the other side of the luxurious, premium dream space you always wanted. To learn more about our products, visit us at www.naveentile.com.