What Is Ceramic Tiles – Know About This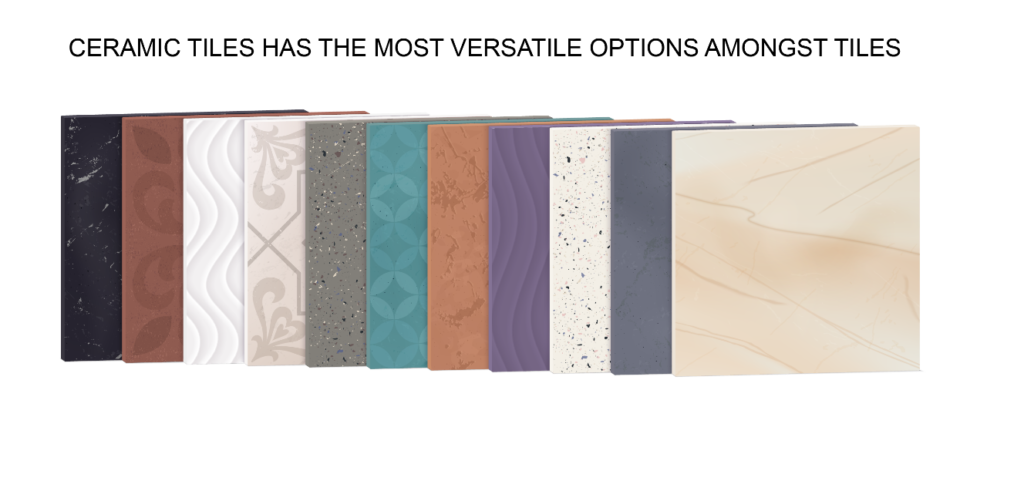 The question What Is Ceramic Tiles? is coming in everyone's mind so Ceramic tiles are the most used tiles for flooring and walls across the world. Their various applications in the market have led to different types and classes of ceramic wall and floor tiles which you need to keep in mind while choosing. The world of ceramic tiles provides you with a plethora of options to choose from when it comes to designs and sizes. Usually ceramic floor tiles come in 13" by 13", 16" by 16" or 18" by 18" sizes. The best advantage is the various designs; ceramics takes up different disguises- it could be natural stone looks, wooden finish looks etc.
Why should I use ceramic tiles?
Versatility: ceramic tiles are the most versatile among floor and wall tiles in India, it could be a simple bathroom wall flooring or the living room floor, ceramic tiles have many different applications and fit just right.
Durability: ceramics are made with a mixture of different clays at high temperatures, they are designed to withstand strong pressure and be durable, it is a good long-term investment.
Easy maintenance: ceramics require minimal cleaning; they have a good impermeability capacity and usually repel stains and moisture. An extra glaze over time would help keep the tiles look fresh.
Allergen advantage: ceramics are designed in such a way that they do not house allergens over time, they can be easily wiped off regularly which is a good sign for people with allergies because no one want to be on a floor which gives them allergies.
Designs: ceramic wall and floor tiles come in various modern designs; they have the largest number of options compared to other types of tiles like porcelain.
Cost effective: ceramic tiles are known to be the cheaper ones when compared to other types like porcelain. Because of their nature, ceramic tiles cost less both to purchase and to lay.
Different classes of ceramic tiles
Ceramic tiles have various designs, according to their applications in different places, ceramic tiles have been classified into different types, knowing them would make it easier for you to choose for the right application.
Class 1: this type is recommended only for interior and exterior wall designing, such as kitchen or bathroom walls, it is specifically a non-foot traffic type.
Class 2: The class 2 type of ceramic tiles are meant for light foot traffic; the pressure withstanding capacity of these tiles are meant for commercial walls and residential flooring such as kitchen floors.
Class 3: this type of ceramic tiles is found most commonly in residential applications; they are mainly meant for light to moderate foot traffic which is common on residential flooring. They are best suited for living room floors etc.
Class 4: Class 4 type of tiles are meant for moderate to heavy foot traffic usually seen in commercial spaces, this type is best suited for busy commercial establishments like restaurant floors etc.
Class 5: The Class 5 type of ceramic tiles are the strongest type and are meant for extra heavy type of foot traffic which is usually seen in very busy and large commercial establishments such as railway stations, airports etc.
On a whole, ceramic tiles make an amazing option for wall and floor tiling, they come with different modifications such as a matt finish which provides slip resistance and many other types. The versatility, cost effectiveness and variety of designs make ceramic tiles a possible winner. One must make sure while choosing that they are well aware about the product and must choose the right contractor.
To know about how ceramic tiles compares with porcelain tiles , read our blog here
For the best options in ceramic tiles , connect with us projects@naveentile.com