Make your Space Look Bigger and Better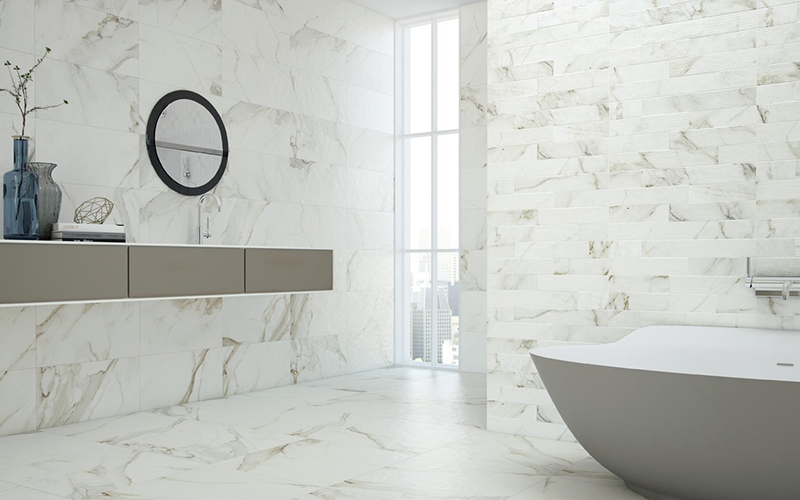 Living in a big city can be challenging when it comes to space. A large part of the population is living in small homes or apartments that may tend to look cramped up and overcrowded. Creating an illusion of a bigger space can be done by using mirrors or wallpapers that are vertically placed.
How do we make a smaller space look larger? This is a question often asked.
Tiles have been a popular choice with the masses that can create the desired effect. Tiles have paved their way in the construction industry and have managed to suit all types of spaces.
Be the illusionist and use these tips to make your space look bigger and better!
Light-coloured Tiles 
Picking up the right colour wall and floor tiles is imperative to make a small place look bigger. While dark tiles are bold and effective in giving depth to the space, lighter colours are best suited for a serene and calm ambience. As the experts always suggest, light colours are the best way to create an illusion of a larger space. This is also primarily because they do not absorb but reflect light giving the area a warm breezy feel. The same colour on the walls and the floor will give a harmonious look making it look spacious and clean. This eliminates the borders between the wall and the floor for an uninterrupted look. Use the same colour grout to create a seamless transition that is sure to create an illusion of a bigger area.
Size of the Tile 
Large-format tiles are yet another sure shot way of increasing the space of an area. Large tiles will have fewer grouts that will avoid the room looking busy or clustered. These tiles give an impression of increased space that looks ample. The fewer grouts in the same colour make the tiles blend well with the floor without drawing attention to individual tiles. Magnifying the space also calls for picking up simple patterns that are sombre and give a relaxing look to the eyes. Easy on maintenance, these large tiles eliminate visual clutter. Available in rectangular or square shapes, they need to be laid in a pattern that will trick the eye into believing that the space is larger than it is.
Placement of the Tiles
Another important aspect that requires consideration is how the tiles should be installed. While we see an increasing population wanting to break the normal norms and experiment with innovative laying patterns. Placing the tiles diagonally or in a diamond shape has been most effective in creating the expanded vision of the walls. These patterns not only create an accent wall but also appear expansive as the lines are less defined. Vertically placed tiles on low ceiling areas are effective in creating height. This is a great technique that is implemented in bathrooms, entryways, and utility rooms.
Finish of the Tiles
What type of finish will be best for creating a larger space? The experts have been suggesting the use of glossy tiles for bringing up the illusion of space. The shiny texture of the tiles reflects natural light letting the eye perceive the area larger and bigger. The glazed coating of liquid glass gives a long-lasting sheen that enhances the patterns giving it a mirror-like look.
Make Solids your go-to Choice
Using large patterns will be a deterrent in achieving your goal of a larger space. It is best to pick plain patterned tiles in solid shades with minimal contrasts. Neutral shades will expand the perceived size of the room and make it look clean and spacious.
For most homemakers, it has become imperative to brainstorm ways and techniques to make their space look larger while not compromising on aesthetic sensibilities. Making the right adjustments to the floor and wall layout will work wonders for the most effective look for your space. These tips will be instrumental in guiding you to plan your tile layout to catch everyone's eye.
We at Naveen Tile provide professional help in making the right choices for your perfect project. Explore these options for a much-awaited construction or makeover of your space. You can log onto www.naveentile.com for further assistance and get prompt solutions to all your queries.