Mindfulness Designing with Naveen Tile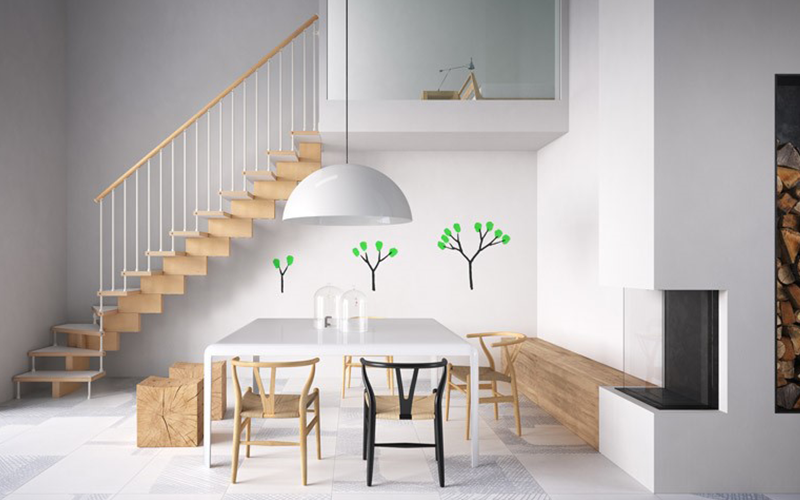 Ready for construction or makeover of your house? The first thing that strikes your mind is to choose the right material that would match your imagination. Tiles, ceramic or porcelain, stone or wooden all have been instrumental in giving wings to your dreams.When talking about interior designing, tiles are usually the first to come to mind as it's paramount in setting the tone for your place. You will be spoilt for choices with the variety of colors, patterns, and sizes that are available in tiles.
Want a classic look or an edgy statement? Prepare yourself with jaw-dropping options of floor and wall tiles that are oozing with undeniable cool factors.
We are going to talk about ways to use tiles as a game-changer that will give you the most desirable look you always wanted.
Evergreen Neutrals
Neutrals are understated yet impactful and installing them in an offbeat style will make abig difference. The neutral scheme creates the surface and texture of natural stone which is a good alternative that can be used in any area of your house. In the bathrooms, kitchen, or living rooms this color palette will provide a timeless appeal that is simple yet elegant. If you are keen on a seamless look then large tiles in neutrals are the best choice for your walls and the floor. Easy on maintenance with limited grouts the larger tiles give an effortlessly natural look throughout your home.
Play it Modern
Contemporary tile design can be attributed to the texture of the surface, the choice of colors, and the materials used. A straight lay pattern or the classic grid pattern gives a twist to the interiors enveloping it with a style that is seamless and chic. Geometrical designs laid in varied patterns like the herringbone or an interlocking pattern that can give texture to the walls bringing in visual drama is another option for contemporary styling. These combinations from the neutral palette will create a wooden look effect and give an impression of the wall wrapped in ribbons and strips. Wall-to-wall windows with modern-day furniture are most suited for completing the look of the space.
Play it with Art
A pinch of art into your interiors is by far the best way to make the perfect style statement. These inspired tiles instantly upgrade the look of your space making it look spectacular. The glossy vitrified tiles in leafy and floral patterns laid in random placements balanced with neutral shades, the Moroccan vibe in black and white are some designs that will elevate the feel of the space. The look of the space can be balanced out by adding these tiles to an accent wall or a space that needs some sprucing up while aestheticizing it in the way that'd seize anyone's attention.
Add a pop of color
Want your interiors flashing light and color? We are often confused about how to bring about the right dash of color that is not overwhelming yet will liven up the space. One of the most sought out ways to use colorful tiles. These tiles can make an immediate impact and make your neutral space stylish and eye-catchy. Why shy away from using these colors to the walls or the floor that will give the required bold attention you always dreamed of. Multicolor tiles in hues of green and orange or a combination of fiery red with beige are a few combinations to spice up the space. Available in various patterns and designs these can be used as backsplashes in the kitchen, the bathroom, or even the living room.
The 3 Dimensional factor
The 3 D effect has gained popularity in recent times for its ability to breathe new life into your abode. These have been instrumental in creating beautiful landscapes with their uniqueness with minimal effort. In the outdoors, these can be laid to give curves or angle detailing with matt finish wall tiles that will give an incredible look to the exteriors of the house. The 3 D effect wall tiles can be installed into the kitchen cooking space or the bedroom in rustic neutral shades for the warm and comforting look
The wood Transition
Always admired the beauty of nature? We will bring the serenity and calmness of nature to your house with our wood look tiles. These tiles are created to perfectly replicate the aesthetic features and characters of wood. Available in different sizes these are perfectly suited for outdoors or indoors without the risk damage. The wooden parquet floor tiles are adaptive to all areas of the house including the kitchen, bedroom, or living room. Even on the swimming pools, these are a good choice to add warmth and playfulness to the area. They have no absorption, therefore, are best suited for areas with high humidity.
These designing tips will be of great help to you while you struggle to make the right choice of tiles for your dream house.
We at Naveen Tile provide professional help in making the right choices for your perfect project. Explore these options for a much-awaited construction or makeover of your house. You can log onto www.naveentile.com for further assistance and get prompt solutions to all your queries.