Modern Front Wall Tile Ideas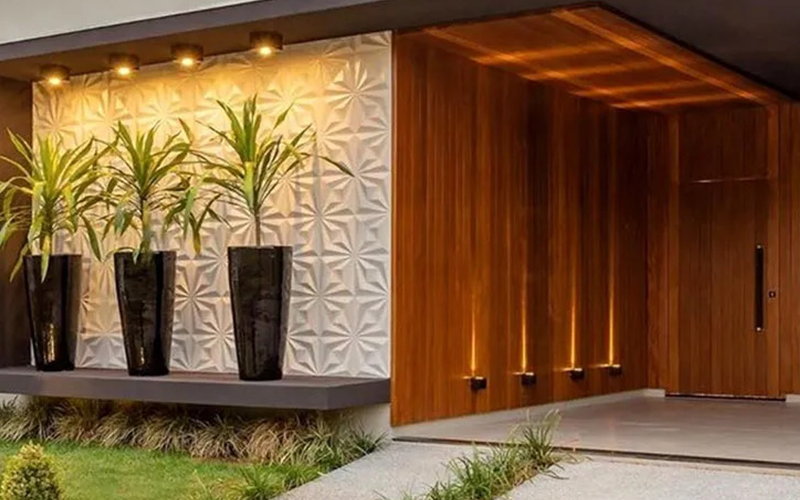 When it comes to modern house design, tiles are perhaps the tiniest décor element, yet they have the most influence. Modern front wall tile ideas can provide you with the inspiration you need, whether you are hankering for a modest design refresh or searching for novel ways to improve your home's doorway. When employed in the design of the tiles for the main door entrance, for example, colours that might be a little too bold for painting the external walls might appear bright and new.
Tile can be a chic way to give your living room personality. It's a practical solution for your improving your infrastructure's quality because it's long-lasting and simple to maintain. The development of wood-look tiling has made it a stylish, affordable substitute for the real thing.
The type of tile used is also very significant. Front wall tile ideas have advanced greatly in terms of composition, colour, and patterns. From natural stones to clay, ceramics, glass, and 3D prints. In this blog, we'll look at contemporary front wall tile ideas that you may choose from, based on your preferences, financial situation, and the style of your home.
Walls in the sitting room
Tile is a fantastic way to give the walls of your living room personality and character. Make your place appealing by adding real texture or a skilfully designed mosaic. You can create customized walls in a way that is unique to your house using one of the natural stone families. Create a striking accent wall out of marble, slate, quartzite, or granite, or use trim to create a frame form as a modern alternative to hanging paintings. By adding distinctive three-dimensional tiles, you may give your area more depth.
Since your living room has a lot of visitors, it's crucial to pick a material that will hold up over time and be simple to keep clean. Our tile options have a timeless charm and a natural appearance that won't deteriorate quickly. Ceramic and porcelain materials are more ornamental, more adaptable, and more affordable than genuine stone. The hard surfaces are resistant to spills and won't collect dust or bacteria. Due to their ability to be printed to resemble many different species of hardwood flooring, wood-look ceramic tiles are a popular design. Because it is less susceptible to water damage and scratches, faux wood is less expensive, easier to clean, and maintains its appearance over time. Tile offers a beautiful balance of form and function in a wide range of styles, from conventional patterns to cutting-edge contemporary designs.
Let's explore some tile options for your modern home style
1. Front wall tile design in Moroccan style
One of the most prevalent trends in recent years has been the design of Moroccan-style front wall tiles, which was inspired by the encaustic tile style popularised in the Middle Ages. Moroccan tiles are a natural choice for Mediterranean-influenced home exteriors, yet they go well with any style of house.
These are particularly well-liked in modern architecture because major door entrances with faded Moroccan-style tile designs go well with wooden window frames, adding a stylish touch to any rustic setting.
2. Sandstone front wall tiles with a contemporary style
Due to their heavenly qualities, natural stones like marble, granite, limestone, and travertine are becoming more and more popular in wall tile designs for front walls. Among them, sandstone, which resembles desert and beach sand, can provide homes that adore golds, reds, browns, and tans a unique appeal.
Installation of sandstone tiles has numerous advantages, including great durability, distinctive textures, simplicity of installation, and a large range of front wall tile designs. A wide range of external colours are available in the sandstone tile patterns for the front wall of the house, from multi – colored maelstroms to medium tone whites and charcoal or black.
3. Front wall tiles made of ceramic
Red or white clay that has been baked in an oven is often used to make ceramics. There are two types of ceramic tile: glazed and unglazed. Ceramic house front tile designs are almost always sealed with glaze to make them durable, waterproof, and stain-resistant. It doesn't require any form of protective finish or sealer.
Unglazed ceramic, on the other hand, is highly porous and readily absorbs liquids and stains, so if you want to use them for the main door entrance, be sure to carefully seal the tiles as soon as they are installed using a high-quality sealer.
Naveen Tile is a one stop location for all your tile needs. You can explore all our tile designs at www.naveentile.com or visit us our large dealer network stores in India.