Say Yes to Mosaic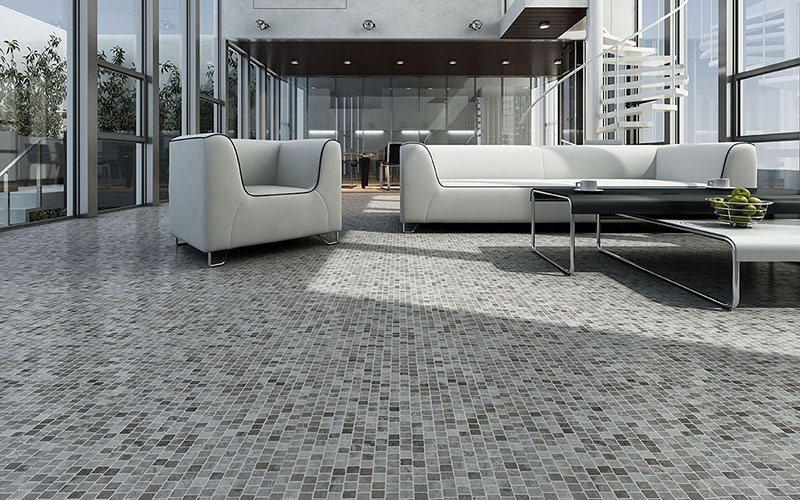 Mosaic is a combination of ceramic, porcelain, natural stone, metal, or glass set in a random or defined pattern. These could be set in varied colours, shapes and sizes and are extensively available in the market. Mosaic is underrated for the lack of experience and knowledge of how these can be installed to revamp your space and make it look glamorous.
These can be used on the wall or floor depending on the requirement of the space. Mosaic is most suitable for any space because of its limited requirement for maintenance, durability, and cost-effectiveness. It is easy to clean, a single wipe can help clear the dust and mould from it.
It is imperative to make sure the mosaic is laid carefully for any imperfection will be right in the face of the grout. The mosaic tiles can be matched with a similar colour grout or a contrast depending on what suits the space.
Mosaic on the Walls
Mosaic can bring about a complete transformation to the walls of your kitchen or bathroom. The porcelain mosaic tiles are available in hues of blue or green and are a good choice for the walls of the bathroom to give a Mediterranean vibe. Backsplashes of the shower area when installed with the mosaic bring a lot of texture through lively patterns that are otherwise not possible with simple tiles. The kitchen walls get a twist with mosaic tiles as their earthy appearance makes it a stunning choice for the kitchen area.
Mosaic Art
Want to show your creativity or imagination? Popular in the Roman World as floor decoration, they are used as interior or exterior décor because of the versatility it offers in terms of design. The earlier mosaics were made of pebbles but developed into finer versions with glass, stone, and metal. Mosaic tiles are in today's times are one of the most popular choices for walls and floors in many countries. Available in various shapes, designs, colours, and patterns; these are considered as an artisan's delight. The geometrical patterns are one of the most opted designs in these tiles with many other abstract versions paving the way into people's hearts. These tiles are eco-friendly and water-resistant hence using them decreases your effort in maintenance.
Mosaic Carpeting
These versatile tiles are also a brilliant choice for floor carpeting as they are intricately designed and play with the light and shadow to bring beauty to every space. The mosaic cover cladding is also desirable for the passage area, walls and floor. The artistic craftsmanship in these tiles is breathtaking and is sure to make a statement in any interior. These could be extravagant or modest depending on the colour, pattern, and size you opt for.
Mosaic for Outdoors
Outdoor tile choices are made keeping in mind resistance to weather conditions and the ambience one wants to create. These come in a limitless range of colours and installation patterns that are not only square or rectangle but also in other irregular shapes. It is very important to seal these tiles to protect against staining and freeze damage.
Modern Mosaic
Want a completely modern look to your space? Mosaic tiles are the answer. The trendy and designer feel that you always wanted is possible with the choices that Mosaic offers. Achieve the magnum opus look with the glass mosaic tiles that is sure to make you feel royal. Colourful yet minimalist, the Glass Mosaic tiles are ideal for adding a luxurious feel to the interiors of your space. Marble mosaic tiles are another durable choice for the contemporary look of your space. The durability of the natural stone comes with simplicity but can offer incredible intricate patterns that evoke a modern feel to the space.
Metal Mosaic
The irresistible shimmer of the metal mosaic tiles lends the luxurious pick-me-up look to your space. Whether it is the sparkling steel or the gorgeous copper, all these patterns add movement and dynamics to your space. The bling with the metal is the perfect way to liven up your interiors. The metallic patterns can be combined with neutrals for a unique and captivating design you will love to flaunt.
These mosaic choices are synonymous with elegance and luxury, making them a classic choice for your interiors. These perfect combinations are an instant winner and the seamless finish of these tiles will capture your imagination.
We at Naveen Tile provide professional help in making the right choices for your perfect project. Explore the current trends with our mosaic tiles to make your space a unique one. You can log onto www.naveentile.com for further assistance and get prompt solutions to all your queries.