Tile Styles Inspired by your favorite Friends Characters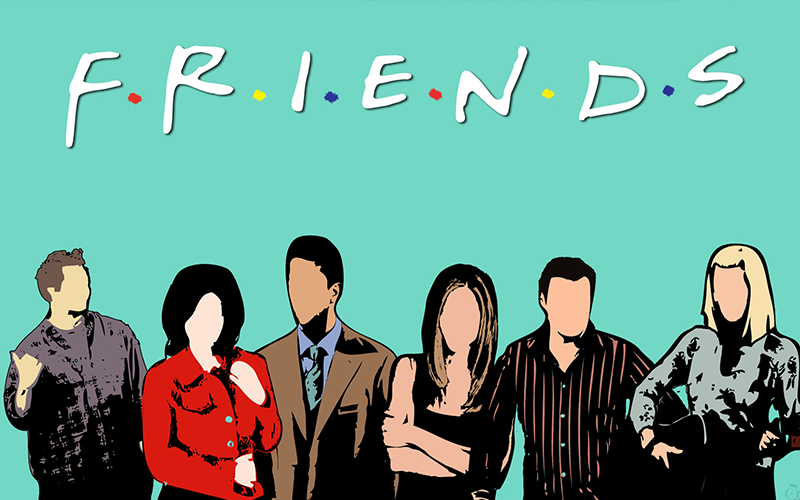 F.R.I.E.N.D.S has been off air for last 16 years. However, it is still regarded as one of the most recognized TV shows in history. One of the most binge-worthy programs that is timeless and works best for calming the mind before each night for most millennials.
F.R.I.E.N.D.S is still considered as an everygreen style icon and has inspired many designers to create the most iconic designs of millennial era. It is also well known for its aesthetic décor. Let's explore each characters style and which tile they represent.
Rachel got that sophisticated, classic taste that everyone aspires to emulate. Her style, however, evolved as she experienced growth in her career. Shiny glass tiles are a glam option for shower or back splash tiling. Glass tiles have the highest stain resistance of any type of tile; they are even resistant to acidic substances like red wine and lemon juice. Glass tile has one drawback that makes it more likely to chip and crack if something is dropped on it, so your wall is where you should use it.
We love Monica's apartment because it's not just clean, it's Monica clean. Rather we love it for the iconic purple walls to the mismatched furniture and bright pillows in her living room. What a cute apartment!
Marble is a classy and daring choice that go with Monica's style. It radiates a level of elegance and flair that is difficult to match with other materials while being one of the most expensive natural stone tile materials. Marble, which has pronounced natural mineral veins and is produced under intense heat and pressure, can withstand the heat and strains of daily use very well. Marble tile may be the only form of tile that can so radically improve a room. The naturally occurring stone comes in a wide range of colours, including green, grey, beige, white, black, and many others. It also exhibits a stunning array of colour veining.
Phoebe because of her kooky and hippie-loving soul appeals to the vagabond in everyone that surfaces from time to time.  A tile that resonates with Phoebe's style are the Mosaic tiles. They are a common choice for homes and businesses because they are colourful, timeless, and incredibly attractive. Although Mosaic Tiles are smaller than standard tiles, they offer a few additional benefits. Combining hues, patterns, forms, sizes, and even textures results in the formation of Mosaic Tiles. For ease of installation, these tiles can be mounted either randomly on a mesh sheet or in a repetitive pattern. Mosaic Tiles are simple to clean and require less maintenance. To create Mosaic Tiles, several colours are combined,Mosaic offer countless creative options. You may alter the textures, forms, and colours in a mosaic frame to give your floors or walls a distinctive look.
Joey is known chiefly for loyalty, trustworthiness, and valuing friendship more than anything in the world. These character traits and a couple more made him the most iconic character in the show. Ceramic tile is a versatile and well-liked option for tiles just like Joey. Ceramics is the best material for any area in your house, including the kitchen, bathroom, and front entry. Due to its affordability and durability, ceramics are very popular. Comparatively speaking to wood, carpet, or even vinyl plank flooring, glazed ceramic tile gives higher protection against stains or damages.
Ross, the resident paleontologist at Central Park, is a born leader who enjoys making plans, setting objectives, and educating people. As he was about to regain his desired relationship with Rachel, he derailed the situation by yelling, "We were on a break!" Like his personality, Ross is similar to Porcelain Tiles. Porcelain's popularity stems from its ability to mimic natural stone, brick, or wood without requiring upkeep. Without any maintenance or ageing, you receive the same exquisite finish. The fact that it is an all-purpose tile also gives designers flexibility when designing a space because it is available in a wide range of designs, colors, and styles. Since porcelain won't break, fade, or freeze, it can even be used outside. Porcelain tile can also be used for back splashes in kitchens, high-traffic areas, and bathrooms.
Funny, affable, sarcastic and a bit insecure. Chandler can always be counted on for a zinger or quip. As he put it, "I make jokes when I'm uncomfortable… I say more dumb things before 9 a.m. than most people say all day."Since the 19th century, Cement Tiles have been used, and they are currently enjoying a small boom in modern interior design. Cement tiles are adaptable and can provide you with incredible designs and hues. Because the tiles are so porous, they might develop a patina over time that will enhance the pattern. If they fade over time, they may also be sanded and resealed, just like wooden floors.
At NaveenTile, we are infinitely fond of all the characters of the show and are also advocate of all the styles and aesthetic it represents. To know more about our products, visit us at www.naveentile.com.