Tile Trends 2022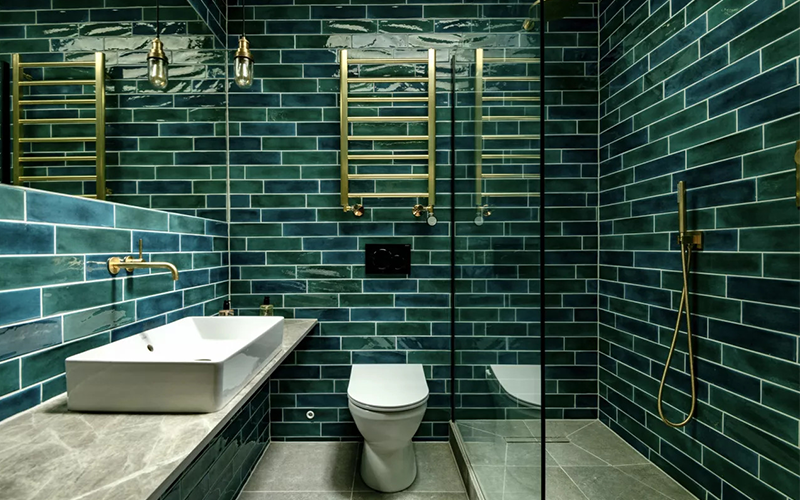 If tile trends are any indication for 2022, it is going tobe the year for non-conventional makeovers. Interior designers are switching things up this year and eschewing the bland and uninteresting in favour of tiles that are bursting with character.
This year, Tile styles are evolving in two (almost polar opposite) directions. One version uses tile as an accent that can be mixed and matched, while the other embraces it as a matchy-matchy finish where the colour, form, and texture reflect the room surrounding it.
Bathroom trends
One of the most interesting and challenging parts of redesigning your bathroom is selecting the tiles. The day when choosing tiles was solely focused on their practical qualities, such as being water-resistant and easy to clean, has long been forgotten. Today's market is filled with exquisite, eye-catching tiles that add depth and the right mood to your bathroom's interior design. You can choose from a wide variety of bathroom tile designs, including various forms, patterns, colours, and materials.
Make a thorough and informed choice when selecting bathroom tiles because they can make or break the appearance of your bathroom. Before redesigning your bathroom's decor this year, look at the newest tile designs for bathrooms in 2022.
Recommend a classic shape when considering bathroom wall tile ideas. Designers are reimagining the contemporary standard and breaking the mould with novel shapes and colour schemes. The colour green is one of the hottest trends in interior decorating right now. It's fashionable in almost every room of the house right now, including the kitchen, living room, and bedroom. Especially those with fun designs and patterns that try to change up the trend, don't be shocked if you see more green colour continue to appear in powder rooms across your feeds.
Room Tile Trends
1. Baroque Tile Trend
The Baroque style, which was marked by a sense of movement and luxury, dominated European art and architecture throughout the 17th century. Similar to that, these tiles are vibrant, especially when made from floor-to-ceiling porcelain slabs. While some luxury tile producers offer tiles with gold detailing and reflective surfaces, others produce dramatic marble effects with vibrant hues and strong veining.
2. Bas Relief Tile Trend
Manufacturers have significantly invested in new technologies in the past year to generate ceramic and porcelain tiles that break through the third dimension, from rounded edges that resemble old stone to low relief that adds depth and structure.
3. The Three-Palette Captivating Colors Tile Trend:
"Celebrating Ceramics in Color" – The sector is returning to a few fascinating classics from decades past. These ceramics don't attempt to imitate anything; instead, they pay homage to the lengthy history of this material and industry through aged edges, time-honoured glazing methods, and conventional designs. This homage to pottery origins harmonises wonderfully with earlier fashions and can be found frequently in mellow colour tones like twilight-hued greens, peachy and chestnut brown terra cotta colours, creamy tans, sandy beiges, and even Santorini Blue.
"Earthy Jewel Tones" – As a result of the pandemic quarantine, people are ready to decorate their homes and walls with more natural hues. the jewel-like hues that nature contains, including amber, brick, emerald, and aquamarine hues, are popular palettes for tile in 2022. Leafy greens and rich clay colours give us a grounded connection to the outdoors.
"Pastels" – In accordance with the predominant romanticism, pottery manufacturers are including pastel hues like sage, mint, rose, and sky blue in their collections. These hues give homes a calming and natural sense. These colours also go well with more prevalent colour trends in the market.
These trends are amazingly beautifying the world as we are seeing today. It is so impressive to see how people are experimenting with colours, textures and patterns. We at Naveen tile are here to keep you updated on these trends and assist you with all your tile requirements. Explore our collection at www.naveentile.com.