Tile Trends for Summer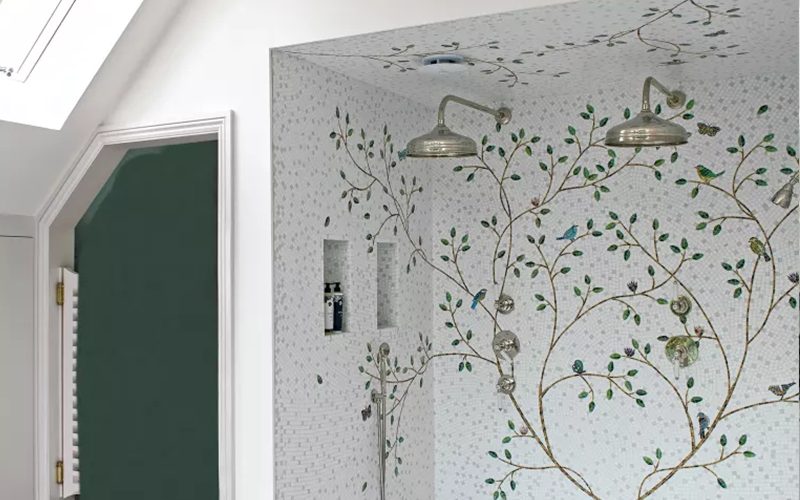 The arrival of summer and the newest tile trend coincide. The tiles are a few design elements that can completely change a place, whether the wall or the floor of the bathroom, kitchen, bedroom, outdoors, or any other part of the house. A tile can convey a good vision through multiple designs.
Renovation projects are widespread throughout the summer. This is because people have enough time and suitable weather for the task. Do you intend to change anything about the interior or exterior of your home? If so, you've come to the correct place. Below we highlight the top 5 tile trends that will style your home this summer.
Terrazzo Tile
Over the conventional, classic tiles, terrazzo adds a contemporary touch. In the 1960s and 1970s, this kind of floor tile was trendy. They are certain to give the house a distinctive appearance, whether made of marble chips, glass, granite, quartz, or any other material. Hotels, public spaces, and shopping malls use terrazzo tiles rather frequently. But as designers are re-experiencing the viewpoint of such tiles to give them a whimsical appeal, current designs are now enhancing the elegance of these tiles. The vivid colours of the terrazzo tiles add to their aesthetic. The drab yellows and beige winter tones are no longer in style. The summer months bring forth vibrant patterns and hues in tones like vivid greens and rich blues. Terrazzo tiles come in various colours, such as bright blues or greys, which are undoubtedly beautiful together in interior design, particularly in kitchen tiles.
Hexagonal Mosaic
Hexagonal mosaic wall tiles are ideal for the summer, whether they are used in the kitchen or the bathroom. The tile's pleasing spherical shape makes it perfect for pairing with other striking designs, shapes, or hues. An unconnected bathroom or stylish frameless shower with a distinctive hexagonal tile will look fantastic. All of these tiles will undoubtedly bring modern lighting and a relaxed atmosphere. The hexagonal patterns can complement any other tiles in a variety of colours. The key benefits of using such tiles include advanced design, great for obstinate spaces, differentiating floor use, and much more. The hexagonal mosaics are versatile tiles gaining popularity as they are conventional and attractive.
Stone-like tiles
The Stone appearance of tiles is a new trend in summer tile designs. Stone-like tiles are becoming increasingly popular because of technological advancements and digital tile processes. Stone-look tiles frequently provide a contemporary touch to commercial and residential designs. The fact that this type of tile is stain and slip-resistant is its best quality. Additionally, it does away with the need for sealing. The stone-like tiles are fashionable, reasonably priced, adaptable, and low maintenance.
Marble tile
One of the top 5 tiles for the summer is marble. Marble tile designs are becoming more and more popular for use in both indoor and outdoor installations. Pale and rich colours work well in indoor spaces. The tiles have distinctive and aesthetically pleasing feminine and minimalist patterns. The Nature marble tile collection is the best option to employ elegant-looking yet functional tiles to decorate your home or any specific space. The marble tiles come in four distinct, eye-catching hues that offer your space a refined and understated appearance.
Some benefits you shall enjoy after using the marble tiles include gorgeous appearance, durability, resistance to scratches, hardwearing, exceptional insulators, affordable, and much more.
Rich Floral Tiles
Rich flower tiles are also becoming increasingly popular as a fresh look for the summer. The floral tiles, primarily used as bathroom tiles, are now utilised to decorate various rooms in the house. The vibrant flower designs on the walls gives a charming appearance by the lovely blooms. Every interior designer wishing to decorate his/her home can find inspiration in the floral print tiles, whether in the wild plant designs, canopies-inspired prints, or vibrant botanical prints. The floral print tiles offer the rooms a natural appearance and go well with every colour. These tiles are available in both Polished Glazed and Glazed Vitrified options.
In addition to these, many other styles are popular during the summer. The area's size, however, significantly impacts the tile choice. These tiles come in vivid, striking colours that give the property a unique appearance and go great with the summer.
Make sure you have the correct tile for the walls and floors now that you know the most popular designs on the market and have had plenty of time to consider them. The options mentioned above offers a separate assortment for outdoor walls, flooring, and interiors. The tiles will undoubtedly give your current style a fresh perspective. To know more, visit www.naveentile.com