Tiles that match your style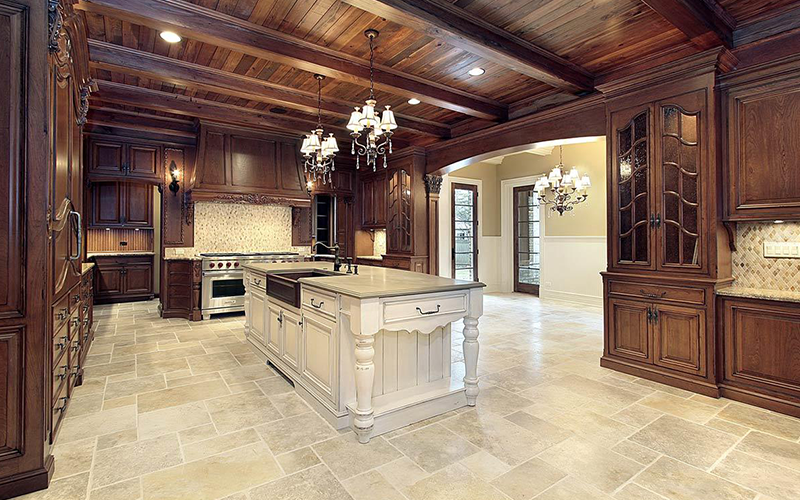 "Every house tells its own story "is a phrase that speaks volumes about your style. Tiles have become an integral part of our homes and can transform your space into a visual splendor. Floor tiles or wall tiles, both if picked and combined well, can create a design that will reflect your taste and sensibilities.
What do we keep in mind while selecting patterns, colors, and designs?
How do we make the right choice for the various areas?
What should be the size of the tiles?
All these questions pop up in our minds while doing up the space and need serious thought before installation. While choosing the patterns, color palette, and designs for the floor or the wall, one has to keep in mind the purpose of the space to create a harmonious look.
We bring about the combinations, textures, and styles in today's blog, that will make your decisions much easier while doing up your space.
Mix and match.
Contrasting tiles is one of the simplest and most innovative ways of making your space look extraordinarily classy. The walls could be covered with matt finish tiles, while the floor is enhanced with a wooden textured look. This brings about an interesting twist that is not overwhelming. White and grey combinations or hues of browns are another quite popular combination in recent times. Combining different patterns on the walls, and large tiles on the floor reduces visual chopping and gives a clean spacious stone-like look to your space. Variation of the complementing colors in any design pattern will create a balance and add a new dimension to the interiors.
Neutrals 
The rustic look is one such choice that never goes redundant and has been winning the hearts of home-makers for over decades. Opting for muted shades of the same color is suggested for a unanimous look that can be jazzed up by a bright feature wall. Neutral shades add a sense of calmness, simplicity, and minimalism to any space. These colors are very adaptive and complement the furniture and other accessories in the given space.
Bold and Beautiful
As much as we love the subtle ambiance, there is nothing like a bold tile to liven up your space. Add a punch of these tiles on your walls or floors to match your space to your bold personality. Horizontal wall paneling with patterned tiles on the floor, whimsical floor tiles, intricate accent walls in the bathrooms, or dark terrazzo tiles; these options exude sophistication and are some of the best ways to take the look of your space a notch higher.
Running Bond tiles 
Instead of a straight or grid pattern, running colour tiles is yet another style that is not only classic but also creates a visual variation. A combination of two neutral running colours like black and grey is a wise pick that can be incorporated on the walls and the floor. Similar coloured furniture, accent walls, or countertops when put together will make a style statement that is modern and contemporary.
Large and Edgy
Installation of large tiles comes with its own set of benefits. It provides a seamless look that mitigates the risk of maintenance or cleaning of endless grout lines. It is quick to install, highly versatile and gives an interesting focal point to the area.  It's advisable for both residential or commercial use. These tiles look classy in any area where they are installed.
Checkered Tiles
Used largely for outdoors, these are best suited for balcony, porch, or terrace areas. They are durable and can brave heavy human traffic.  It is also suited for bathrooms subway tiles and can be matched with pretty patterns on the floor.  Diagonal monochrome or straight placements, both look just as beautiful as the patterns and appear magnificent. Don't feel intimidated to use the black and white checkered pattern from top to bottom. If you want to keep it subtle, then use some checkered variation to your vanity that will change the aura of your space.
All these tips will help you brainstormideas for the construction or makeover of the area. These wall and floor tiling tips are oozing with undeniable cool factors.
We at Naveen Tile provide professional help in making the right choices for your perfect project. Explore these options for a much-awaited construction or makeover of your house. You can log onto www.naveentile.com for further assistance and get prompt solutions to all your queries.