Why should you go for Big Tiles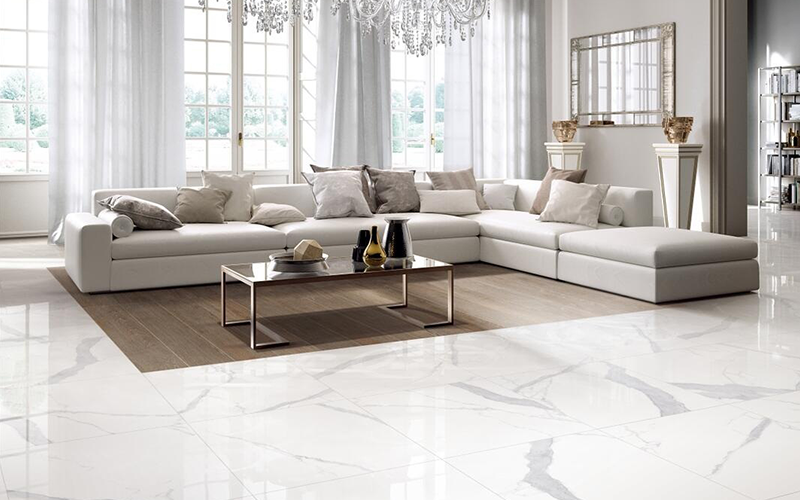 Usage of tiles in residential or commercial spaces has revolutionized the way we look at our interiors or exteriors. Tiles have become the most effective, pocket-friendly, and sustainable way of building or revamping your space. The size of the tile has always been an imperative aspect to consider while laying in different spaces. Smaller tiles have been associated with residential, and larger tiles for commercial use. However, this view has seen a change in the recent past with people wanting to experiment with their sizes and creating different looks.
What are big tiles?
Tiles are available in varied sizes and shapes. They are rectangular or square and are made of porcelain, stone, vitrified and ceramic. Small tiles are commonly understood to be of 12" and anything that has at least one edge over 15 "is considered relatively larger. Many companies have options of tiles ranging from 30" to 40" that can be used depending on your aesthetics and functional requirement.
What are the advantages of using large tiles?
Large tiles come with a set of advantages that cannot be ignored.
Modern and luxurious:
Large tiles when placed will make your space look larger than it is. The placement of the tiles tricks the eyes and controls the "busy" factor. The lesser the grout lines, the larger the look of the area. With the evolution in digitalization, it is easy to get various looks in the porcelain tiles that can give you edgy and sharp looks on the walls and the floor, these can be extended from the floor to the walls for the seamless effect. This contemporary look of the floor and the wall tiles have gained momentum in the current times. Visual distractions that come with using smaller tiles can be evaded and large format tiles can be placed vertically or horizontally for walls and floor respectively for the exaggerated feel.
Goodbye to Extensive Grout Lines!
Usage of smaller tiles comes with a large number of grout lines that have to be carefully grafted for a seamless look. However, over time these grouts attract dust and destroy the shinning effect. Large- format tiles require lesser grouts as they have large coverage and can give a unified effect to space. The look can be further enhanced by using the same colour grout that would blend with the tiles and give a wallpaper effect. Remember to use the large format on the walls for a unanimous effect.
Easy Maintenance
Tiles will require Maintenance in due course of time. This daunting task can be made easier by using large floor or wall tiles that are easier to clean. With everyday wear and tear, tiles do become dull with dirt and moisture and tend to lose their shine and texture. In such a situation cleaning will take away a lot of your time and energy. This can be made easy by using large tiles that bring about fewer grouts and therefore require less cleaning. This would leave you with more time that you can enjoy at home.
These tips are sure to convince you to graduate from using the traditional small tiles to the more contemporary large tiles for that majestic feel of the space. Do not hesitate to try these changes in your dream project that can change your perception of using large tiles.
We at Naveen Tile provide professional help in making the right choices for your perfect project. Explore these trending ideas for a much-awaited construction or makeover of your house. You can log onto www.naveentile.com for further assistance and get prompt solutions to all your queries.