Wooden Finish Floor Tiles – The Trendsetter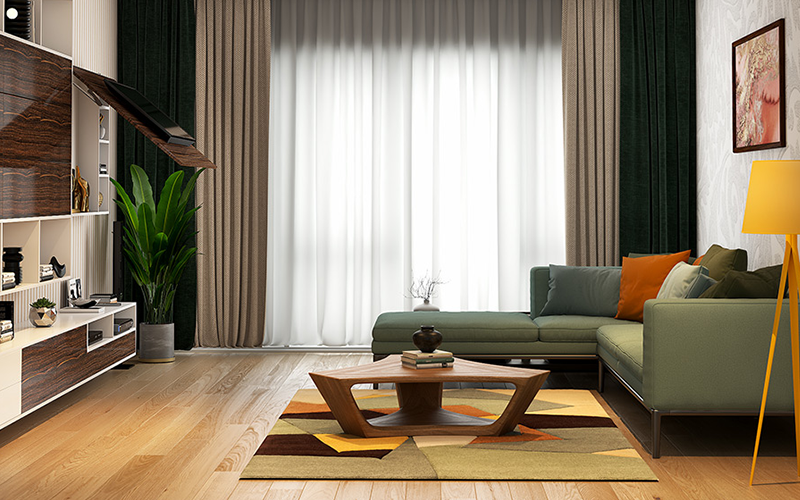 It's time to update your home with distinctive, long-lasting tile floors! With the most innovative designs, textures, and patterns in the flooring industry, tile have exploded in popularity over the past ten years, expertly emulating the latest wooden looks.
In 2023, you'll see plenty of traditional wooden tiles with some fun new options sneaking in. Ceramic tile flooring used to be well-known for closely resembling genuine stone. The tile was a master of disguising even before it was considered hip or fashionable for flooring; their present natural wood appearances are pretty much the hottest thing in the flooring industry is no surprise. Manufacturers can now replicate all the most popular wood flooring designs with textured appearances.
In 2023, wire-brushed, hand-scraped, and distressed wood surfaces will be the hottest trends in. They are all comparable and frequently mistaken for one another. Each textured wood look comes with a unique style and character. No two textured wood planks should ever be identical, and each of these three options has a distinguishing quality.
Wire Brushed Wooden Look Tile shows subtle, intentional wire scratches that leave the heart of the "wood" exposed to the surface. These imperfections are smoother and more consistent than hand-scraped or distressed wooden looks. Rustic, hand-scraped wood-look tile features the appearance of long, ingrained scrapes with high variation between planks, making each plank appear handcrafted, unique, and rare. Distressed wood-look tile is often mistaken for hand-scraped looks. Distressed looks, however, appear as though they've been through a lot of wear and tear. You can expect to see the appearance of scrapes, burns, knots, wormholes, and more, giving it an aged, antique look. These textured wooden look tiles make your home look warm, and expensive. Choosing an ultra-durable tile over finicky hardwood will offer you an equally elegant look with a fraction of the worry and maintenance.
Wood-look tile is a classic trend that will stay current for decades to come. You couldn't be more mistaken if you believe that the era of wooden effect tiles is finished. It is more popular than ever right now. Today's timber effect vitrified tiles, however, stand out because they offer a variety of warm undertones that may not have been conceivable in the past, giving any space a lot cosier, happier, and more comfortable appearance and feel.
Choosing a Wood finish Vitrified Tile won't matter whether your house is contemporary, traditional, or rustic. Finding anything "woody" to fit your design aesthetic won't be difficult. Those who want a highly decorative wooden floor and all the practicalities of vitrified tiles will benefit significantly from the wooden finish. If you are wondering which wooden colours and essences are the favourite now, the trend is leaning towards warm and yellowish hues, which are the best to create a soft and cosy atmosphere.
Install a wooden tile today, and years later the floor will look as grand and beautiful as ever. Just take a look around, how many flooring options that were active a couple of decades back are still relevant today? Yes, you have your answer right there! Wooden Floor Tiles can easily stand the test of time in style and quality. Traditional, sleek, or exotic wooden floor tiles fit with every style imaginable as they arrive in a wide range of finishes and colours. Even more exciting is that, even if the colour fades, you can easily refinish them. Wooden Tiles are the best option to get a beautiful, unique, and natural appearance in your house.
On the other hand, natural wood needs a great deal of cleaning and upkeep and scratches and stains quickly. Wood effect tiles are beneficial in situations like these. They're fashionable, long-lasting, reasonably priced, and available in various styles! Tiles are a beautiful addition to any property, regardless of size. Tiles made of wood for the living room replicate an earthy outdoor finish, allowing you to include your unique style into your home design. The variety of hardwood floor tiles for living rooms that are now accessible is mind-boggling. So, the most incredible wood tile designs for your consideration range from classic to contemporary, modest to opulent.
"Instead of following the trend that keeps on changing and ending, be someone who defines it." We at Naveen Tile don't follow the trends because we believe in setting the trends. We believe in remaining classic and representing futuristic innovations in tiles.  Make the right choice today, and let people keep coming back to your lovely home! To know more about upcoming trends, connect with us at www.naveentile.com.